Last updated on October 11th, 2023 at 01:05 pm
With the increasing population, homes at an affordable cost have become an ever-increasing demand in the rental marketplace.
Due to the rising rental market for low and mid-priced housing, the demand for Rental Search App Development has grown in the last couple of years. Moreover, there is a sudden spike in technology adoption due to the increasing number of tech-savvy people.
Top real estate agencies such as Realtor.com, Trulia, and Keller Williams have initiated to provide online rental services.
While rental search apps like Redfin, Zillow, and Apartments.com are already ruling the sector, Zumper is the largest rental platform in the real estate sector. Zumper has increased as one of the best apps to get an apartment for rent in the USA, with about 12 million visits.
It is challenging to build a rental search app like Zumper. Hence, if you are seeking to build a rental search app like Zumper for landlords and tenants, this web blog will aid you in comprehending all the essential details of Zumper.
Reason To Create A Rental Search App Like Zumper
So, why should you build and invest rental search app?
There are different reasons for investing in rental search like app like Zumper. Moreover, we shall explore some of these in this blog if you seek the same. These are as discussed below:
Growth
Each business can get higher growth. And industries such as real estate provides unique growth opportunities. It is one of the causes to develop a rental search app of your own and aid your business in growing.
Revenue Generation Opportunity
Suppose you are going to invest in something and want a return hence this process is known as a Return on Investment (ROI). If you are concerned regarding ROI, then real estate is just the sector you are seeking for.
Healthy Market
Calling real estate sector a healthy one is factually a illegal understatement. Using a valuation in trillions can be a good one for business. It is the crucial cause of attracting the most individuals concerning developing an app like Zumper.
These were some of the causes to invest in an app like Zumper. Moving on, we will discuss how does Zumper work.
How Does Zumper Work?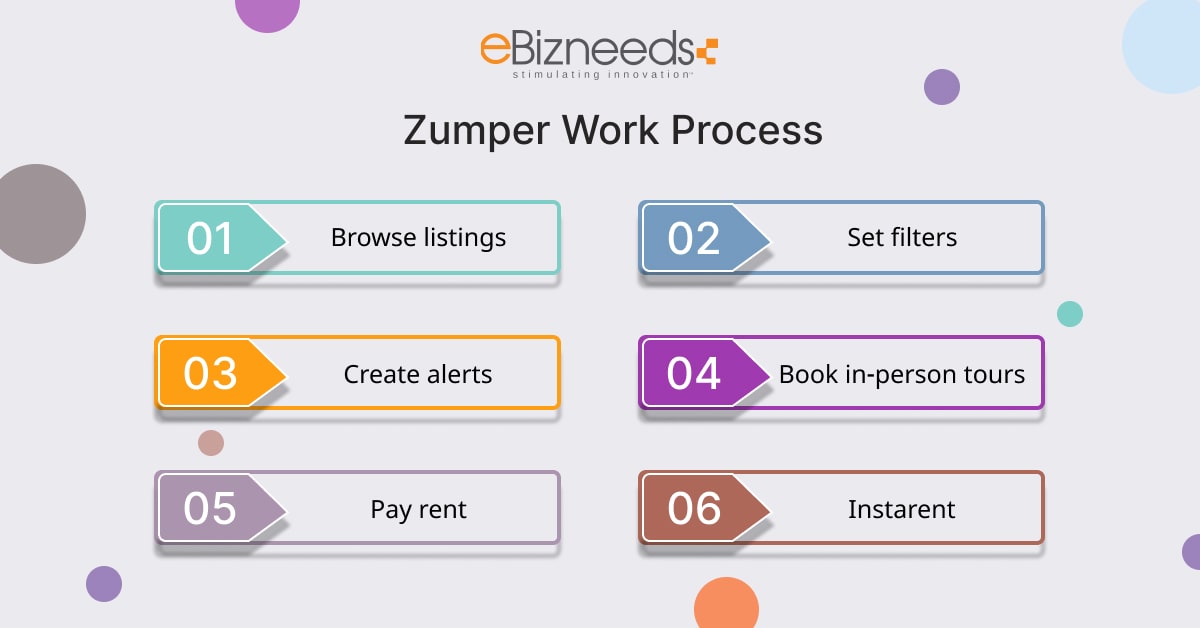 With Zumper, users can find houses, apartments, or rooms for rent according to their preferences. Whether you are seeing an apartment in a posh area, offbeat location, or outskirt, Zumper aids you in choosing the best one.
Browse listings
Find millions of places for rental apartments throughout the USA. You can browse the listing with standard-quality videos, images, and virtual outings.
Set filters
Create filters and select your preferred neighbourhood amenities, price range, and bedroom count for customizing your search experience. It is one of the standout features related to the rental search app.
Create alerts
The app sends real-time notifications to users regarding new rental listings on the app. These notifications aid in keeping the users updated on apartments that match their choices.
Book in-person tours
The users can book trips on the app with just one click when they are interested in an apartment. Users can request virtual tours or HD videos when they do not exist for in-person tours.
Pay rent
The app permits the users to pay online rent with the app itself. Furthermore, users can consider one-top rent payments with debit cards, credit cards, or bank transfers.
Instarent
Book Instarent apartments and lease them fully virtually in 24 hours. This feature is accessible in some cities in USA and Canada.

Features to Include in Rental Search App Like Zumper
An on-demand app development company would assist you in creating an app. But initially, you must sort out the features you want to consider.
Features are one of the significant elements of any mobile app. Hence, to develop a successful app such as Zumper, you must fill it with all the possible features.
Moreover, features also highly influence app development costs. Therefore, it is something you must observe closely. Let's delve more into the features of rental search apps that modern businesses consider in their software functionality.
Advanced Search Capabilities
If you have more detailed search results, then the user experience would be better. Availability, car parking spots, price range, property type, amenities, square footage, and year of construction must be considered in all search functions.
It is highly advised to conduct A/B research to evaluate the order of filters shown to users according to search patterns.
Moreover, users must be competent in saving their searches and properties of interest because it will increase retention.
Databases
It is significant for rental channels to execute integrated databases that can hold thousands of listings. Moreover, the multiple listening service is a highly used source to make a list of data using third-party applications.
This data can be configured and optimized. There must be an alternative to accept the contribution of users. It can be done by filling out a form with a property description, like details, addresses, prices, and photos.
Property Page
It is another significant feature of the guest and host pages. It must consider the type of accommodation, depth description, and photos, info regarding the host with reviews, preferably comments.
Information regarding the host with reviews, maps, calendar, and nearest locations. Users generally decide according to the comfort of the property, the located areas, means, and services placed within reach; hence the property page must be as transparent as promising.
Interactive Maps
Each listing must consider a map view that describes the property's settings, like schools, vacation spots, local transportation, shops, and other aspects of interest.
It could be made possible by applying map APIs, and by considering a GPS, users can rapidly measure travel times among the particular property and imperative destinations.
By incorporating the open databases, your platform must also consider demographics like housing data and crime rates.
Registration
Users must not be essential for registering because it can push them away. Moreover, it must be requested only when a consumer needs additional data. The registration page must very least request a name, email address, and also password.
It is highly suggested to consider a social network login, like permitting users to sign up and log in using Twitter, Google, or Facebook accounts. It will not only be simple, but it will improve the user's trust.
Recommendations
Similar listings must be suggested based on the search history of users. It will be beneficial for both consumers and rental platforms. When users have a good experience, they are more inclined to return.
This data must be accessible by the main menu or a similar listing option.
Real-Time Messaging
A robust real-time messaging system will enhance the platform's use and engagement. Landlords, agencies, and tenants must be competent to text and send the attachments to each other. It is recommended that users must be capable of interacting with one another via video or voice calls.
User Profiles
Renters can get advantages highly through a personal profile. They must be competent in developing a portfolio according to their specifications and needs for influencing property managers and landlords. In addition, Renters can use their profiles to locate roommates.
Listings
It is significant to strike a vigilant balance between images and text. Excessive text and long paragraphs must be avoided, and attractive photos must be applied to keep a user's focus. Moreover, calculators and house values are examples of data that can be attained visually.
It is significant that the technique to add manual entries be as informal as possible. If property managers and landlords believe that making a listing is highly time-consuming or complex, they are unlikely to progress.
Push Notifications
It can be implied to remind the users of significant updates like new listings or price changes. But, these notifications must be personalized and not used in an abusive way. They must be signed for the user's interest as users are more prone to uninstall an app when they are assaulted with inappropriate alerts.
You can send a notification that brings value, as it will enhance customer loyalty and user investment.
Reviews
Ratings can improve trust between users, particularly those with reservations regarding specific neighborhoods and listings. Permitting past tenants to leave reviews for communities and landlords makes the rental platform more reliable and transparent in the context of its data.
Availability And Booking Management
By enabling the property managers and landlords to control while their properties are accessible for rent or showings, users must be competent to search for listings according to availability.
After all, consumers in rental areas often have specific deadlines and will tend to search for properties that are accessible when they require them.
Property management software will also permit landlords to manage their time using an automatic calendar.
Video Tours
Likewise, virtual and video tours are real-time hours wherein a property manager and landlords walk around the home to offer a more individual experience. This permits special accommodations and instant responses to inquiries or questions that a virtual tour cannot give.
3D Tours
Virtual tours can offer a more inclusive knowledge and layout of a property than images and text explanations. Users must be competent to access homes wherever and whenever they select, permitting them to take their time and thoroughly find a home without feeling hurried.
Global users who are impotent to visit the home in person can also benefit from 3D tours.
A Step-By-Step Guide to Building A Rental Platform Like Zumper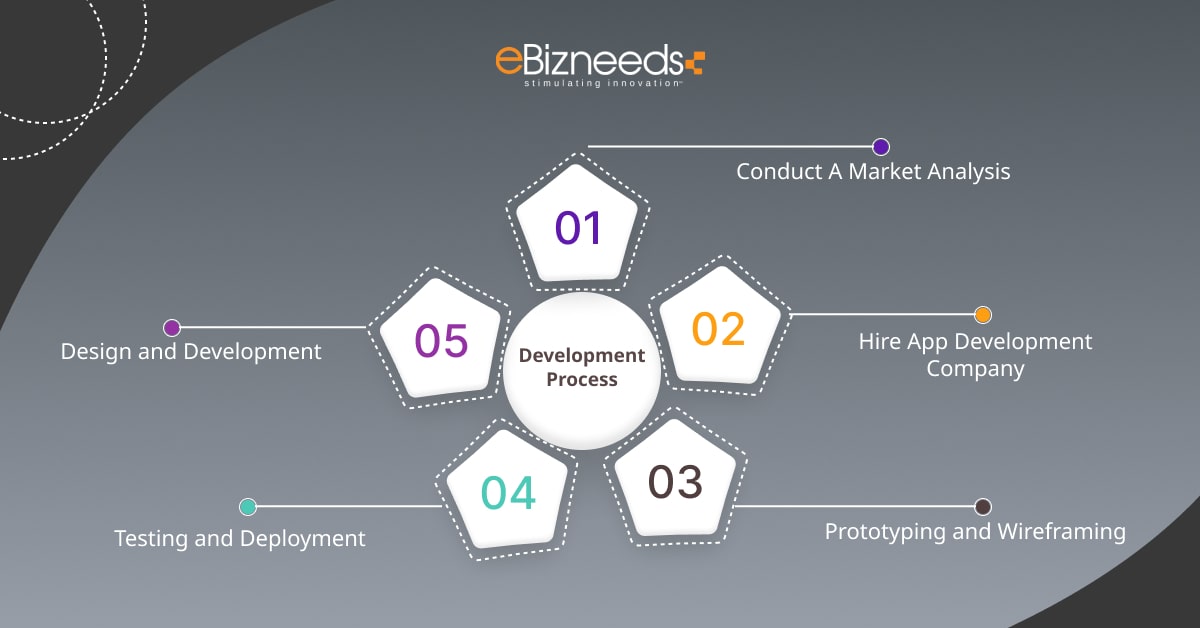 It would help if you were wondering what process or strategy to consider to create a rental search app like Zumper. Therefore, let us assist you in comprehending the steps.
You must consider such significant steps to develop the best rental search app. Let's delve a bit more into it.
Step 1. Conduct A Market analysis
You must thoroughly assess your business concept to understand your product's needs. It is essential to comprehend which features are included or optional because this will illustrate which features the platform will use to initiate.
You can hire mobile app developers to conduct a market assessment. After completing the analysis phase, you would better know your core objectives, scope, challenges, and customers.
Step 2. Hire An App Development Company 
The next big step is to hire the right mobile app development company for your project. The app development company you hire will provide your app idea to life. Therefore, it is probably a highly significant decision.
You should ensure to focus on below things while you are hiring an app development company:
UI/UX design of previous projects
Professional in rental search app development
Their technology stack
Their relevant experience
Support and maintenance services
The hourly rates of services
Step 3. Prototyping and Wireframing
Prototypes are related to app design and advanced UI models, allowing the designers to test the app's navigation and provide feedback regarding the app's design.
In contrast, wireframes are an app's processes that offer a firm overview of the app's layout, architecture, and structure. The designers integrate the wireframes as a visual guide for the whole application. You can hire android app developers for prototyping and Wireframing.
Step 4. Design and development
Now we come to the highly time-consuming phase of overall development. First comes the design, wherein the designers develop a format that compliments the app well.
Moreover, the on-demand app developers bring life to the app with thrilling functionality and features that contribute to a practical and influential application.
Step 5. Testing and Deployment
The app goes through the QA team for final testing in this step. After testing the app, a green signal is given by the team. Afterwards, it can be launched and deployed on the Play Store.

How Much Does It Cost to Build an App Like Zumper
Rental Search App Development costs may vary depending on the following factors. These are mentioned below:
Features
Complexity
Front-end design
Tech stack
Testing process
A standard real estate app requires 600 to 700 hours; if you give $50/hr, you may get your app for $30,000-$35,000. But, if the app is multifaceted and takes longer, the cost will also increase.
Afterwards, the cost will also rely on development areas and the development firm.
For Instance, if you have associated with an IT company in the USA, Canada, UK or other European nations, you may have to pay about $50k to $100k for a real estate application such as Zumper.
But, you can reduce the development cost by 40-70 % by outsourcing your project to an Asian nation such as India, where you will get the best work at a low cost.
For Instance, if you select excellent webworld as your development partner, you will get cost-effective development services with assured quality work that considers global standards.
Technology Stack Required to Create An App Like Zumper
Selecting the feasible tech stack for the rental sector is significant as it can affect product scalability, budget, and development time. Hence, you must hire dedicated developers to choose a feasible technology stack.
If you choose scalable tech, it is highly recommended that you will most likely consider new functionality and avoid scaling concerns. Suppose you select reliable and ready tech to manage high user and data loads.
In that case, rental marketplaces provide massive databases and often consider thousands of online users simultaneously.
Following are some recommended technologies:
Application Framework – Ruby on Rails
Cloud Data Storage – Amazon S3
Automation Framework –RSpec and Capybara
Developmental Language (Android) – Kotlin and Java
Data Management – CoreData and Real
Developmental Language (iOS) –  Objective C and Swift
JavaScript Framework – React.js
Hosting – Amazon Web Services
SQL Data Storage – PostgreSQL
Web Server – Nginx
Web Application Server – Puma

Final words
By building an effective rental search app like Zumper, you can solve the issues and support your business to thrive. Nowadays, users prefer all the services at their fingertips, and rental companies are no exception.
Therefore, if you want to increase your Rental business, developing a mobile app platform for your business is a significant idea to ease your users.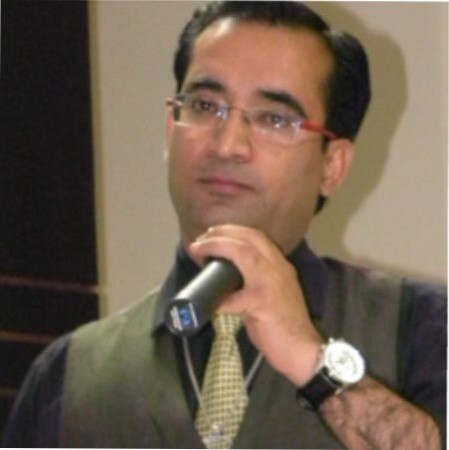 Naveen Khanna is the CEO of eBizneeds, a company renowned for its bespoke web and mobile app development. By delivering high-end modern solutions all over the globe, Naveen takes pleasure in sharing his rich experiences and views on emerging technological trends. He has worked in many domains, from education, entertainment, banking, manufacturing, healthcare, and real estate, sharing rich experience in delivering innovative solutions.