Kik is an instant messenger service progressively applied for online communication by young adults and teenagers. The popularity of Kik is low since kids can talk to strangers on the app.
It doesn't matter if you want to build an app like Kik itself or for business purposes; being vibrant regarding what needs to be made is significant.
Before jumping down the steps to build an app like Kik, we will discuss what Kik is?
What Is Kik?
Kik is a cross-platform app utilized to interact with friends in direct messages or group chats. It is also used for Messaging & Chat App Development.
Primarily, Kik works as other instant messaging services. You must sign up using your email and password or phone number. If you want a practical experience, it is free for Android and iPhone.
You can then link with friends and family by finding their usernames, scanning a Kik code, or permitting access to your contact list.
Kik sends and gets messages by using mobile data or via a Wi-Fi connection. It looks the same as SMS services such as WhatsApp and iMessage, but Kik also has some other advantages.
Users can easily send a set of multimedia via the app, such as emojis, GIFs, images, and sketches. You can now engage in live video chats like Skype.
Why Develop an App like Kik?
After 10 years of its launch, Kik has finally secured its market position as a private messaging service. The market considers that Kik can provide an edge over applications such as WhatsApp and Facebook messenger.
Below are certain statistics related to the Kik messenger app that will surely make you want to invest in messaging & chat app development and develop an app like Kik.
Kik Market Statistics
The statistics demonstrate a timeline with the number of monthly active Kik messenger users internationally as of May 2016.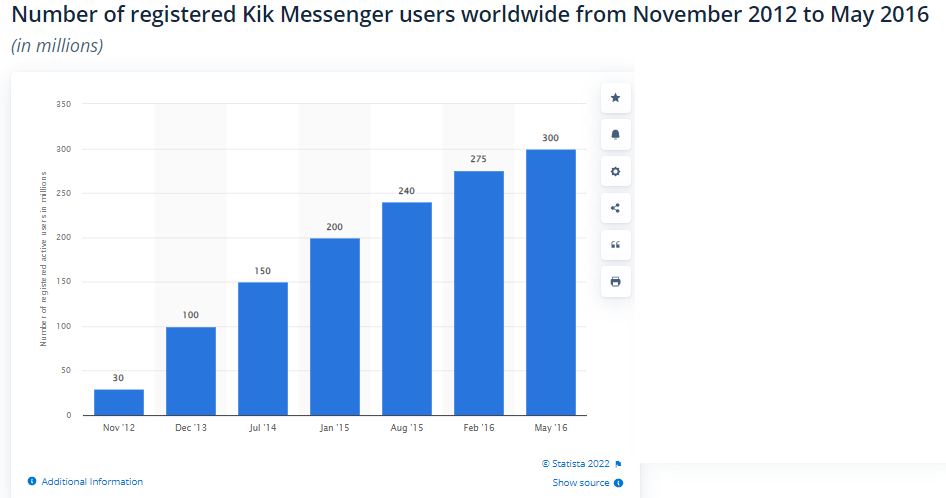 Source: Statista, 2022
The service was expected to have close to 8 million monthly active users in the USA.
Mobile data from Feb 2017 indicates that Kik users in the USA are highly engaged, with an average of 186 monthly usage terms.
As of that month, the mobile messaging application announced over 300 million registered users. It was over 240 million in August of last year.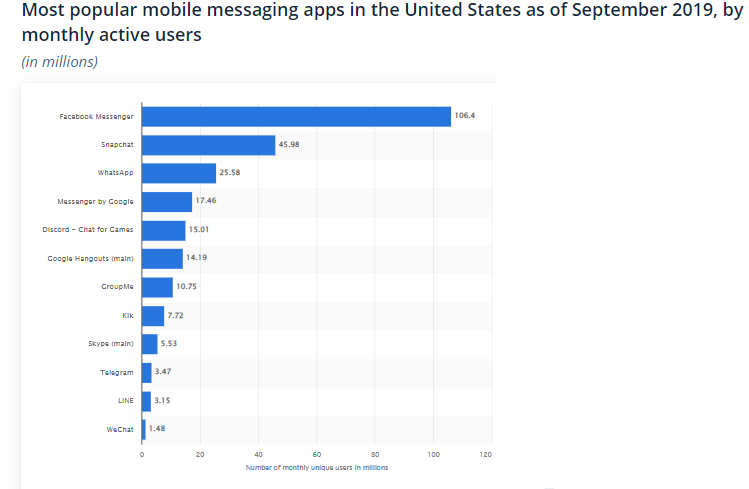 Source: Statista, 2022
Kik data indicates that there are about 7.72 million active users per month.
About 75 percent of its users are between the ages of 18 and also older. It is highly recognized among teens in the USA. They apply it to send messages to their app partners.
Kik ranks amongst the top 8 messaging applications among American youth.
Recognized companies such as Shopify and Sephora have already initiated using Kik to communicate with American teenagers to enhance sales and brand exposure.
These statistics demonstrate the reason for developing an app like Kik. In the next section, we will highlight how Kik works?
How Kik works?
One key aspect of using Kik is that it enables you to chat with strangers. Messaging app development company helps to make the Kik app.
Using the find tab, you can access the public chats to discuss your interest. While you initially sign in, you will get a message from the Kik team that allows you to explore public groups.
It acts using hashtags, and it doesn't matter if you are seeking a stranger with the same interest or if you are bored and want to chat with someone new.
Kik has been recommended as the next phase in dating for people looking for deeper alternatives to Tinder.
Although Tinder stimulates you to perceive someone based on a few clicks and a brief bio, Kik allows you to meet with a compatible person. Finding the public group will make you renowned with the same interests as you. Moreover, some groups are particularly created for people seeking love.
After understanding how Kik works, let's explore some steps to develop an app like Kik.
Steps to Develop An App Like Kik
The key to success is finding the number of choices at the beginning of a business. Whether or not you are a technology expert, you must complete your research and consider all the bases before transforming your app concept into practical working-life knowledge.
It doesn't matter if you want to develop an app such as Kik yourself or if you must engage a business to perform it; being clear regarding what needs to be developed is significant.
Now, let's check out what are the process of building an app like Kik:
1. Choose a Development Platform: Native or Hybrid
You must select the platform by which you will develop before starting the development procedure, whether the messaging is intended for Android, iPhone, or both users. It will be beneficial while deciding whether to build a native app or a cross-platform app.
Platform-specific native apps are only available for iOS or Android. If you want to build an iOS app, you may use iPhone app development services.
They provide improved user experiences and greater functionality. If you want to reach a broader audience, having native apps developed in the early phases of your firm will be quite expensive. From a cost standpoint, cross-platform app development might be considerably more beneficial.
2. Mark out your intended audience
Your messaging service is intended for whom? Is it members of the general public or industry experts? By selecting if the application is designed for a business chat or enterprise-level collaboration, you can place more emphasis on the product's range and choose the functionality you have to add.
Several high-end features, such as chatbots, IOT connection, and artificial intelligence, can encourage you to add them to the app, but knowing your target audience will assist you in making a decision.
You may determine the mobile app's applicability based on the target audience's needs and in-depth market analysis.
3. Put your Minimum Viable Product (MVP)
Your messaging app's first release must be a minimum viable product with just the essential functionality. Eventually, more sophisticated functions may be incorporated.
As you go through the development phase, you'll see how the more features you add to your app will drastically change the range of what it can do, much like Kik.
The development team users are collaborating, and you may gain a lot of insight and speed up the process by establishing the MVP. You may hire dedicated developers to put your MVP in your app.
4. Development
You now clearly understand the final product you want to produce, so it's time to start. You may begin the development phase immediately if you are a technical yourself.
If not, you must search for a team of developers to turn your app idea into a reality, such as an instant messaging app development business. You can consult with an Instant Messaging app development company to develop an App like Kik.
There are numerous options to chat with friends. However, choosing the group that best meets your requirements could be difficult. It would be best if you focused on remote work, internal work, freelancing, and full-time employment.
Another crucial factor in the development procedure is the amount of your budget.
It takes a lot of research to prepare for the start-up's launch phase, which necessitates collaboration with a top on-demand app development firm. To create an app like Kik, ensure you select the leading app development business.
5. Bring about Changes
The messaging app you create will have to be reviewed often to be competitive due to the fierce rivalry in this market and the rapid advancement of technology.
Your app's customer experience has to be competitive, given that the leading market competitors are your competitors. An on-demand app development company can help you make necessary changes to your app like Kik.
When creating your app, you may run into some challenges, but you should be capable of redirecting your attention back to profitability. This is what they mean by "reaching product attributes." Since developing an app takes a significant number of resources, you should consider how to monetize it.
Whether you employ an ad campaigns business model or subscription-based services, you must have a paid subscription to achieve long-term success.
Essential Features to Create An App like Kik 
The features you include throughout the development process are the only thing that genuinely and exclusively determines the functioning and popularity of any software.
It would help if you collaborated with the top Messaging app development business to create an app that dominates the industry with its high-performing and user-friendly functionality like Kik.
Let's now discuss the features required to create an app similar to Kik.
Privacy
The user may request authorization using a user ID name without revealing his email address or telephone number.
Unlimited File Uploads
You may create a feature that allows users to upload an infinite number of files with the assistance of on-demand app developers.
Chatting
This feature enables users to talk alone or in groups.
You can hire mobile app developers to create functionality similar to Kik's, so that users can easily exchange images, videos, gifs, and other content. Employ on-demand app developers with expertise in assembling solutions for incorporating share functionality in your app.
Web and desktop
With the help of this function, users may connect all of their discussions and entertainment to a PC or other device of their choice.
Live Typing
This function lets you watch someone type a message for you in real time. One of the frequently used features of Kik-like software is this one.
Filter Spam Accounts
By implementing the TinEye tool to track the photos of spam accounts, the user can easily identify the fake users who are deceiving them. Banishing unpleasant people or stalkers would be possible for the user. Users will be able to block unwanted or stalking users. Spammers and stalkers can be deleted by users.
Status "Typing"
This tool is for socializing with your friends and currently via typing. If you change your status to "is typing," people will believe you are always typing and be confused.
Users may use this program on a PC by visiting the Kik Clone website. When your phone isn't available, this capability may be used to text others using an app like Kik.
Make friends
With the aid of KIK, you may keep in contact with people in your social network and discover new acquaintances.
Advertisement on Kik
Users must send the company logos they are endorsing to utilize the Kik app's adverts for a particular brand.
Kik for PC
Windows users may also use an app similar to Kik to interact with their pals. You may employ android app developers to create an app if you want to create a Kik-like app for several platforms, including Android.
Conclusion
All of this was about creating an app similar to Kik. Building an app like Kik may be a significant revenue-generating concept in a sector with an increasing need for app solutions.
To construct a strong app and ensure you include the aspects we outlined above, team up with a reputable mobile app development company.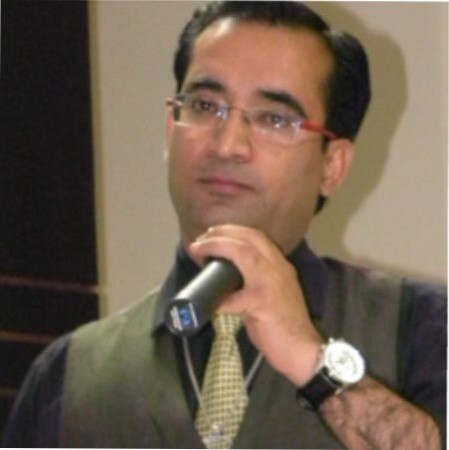 Naveen Khanna is the CEO of eBizneeds, a company renowned for its bespoke web and mobile app development. By delivering high-end modern solutions all over the globe, Naveen takes pleasure in sharing his rich experiences and views on emerging technological trends. He has worked in many domains, from education, entertainment, banking, manufacturing, healthcare, and real estate, sharing rich experience in delivering innovative solutions.