Last updated on October 11th, 2023 at 09:21 am
The sudden rise in demand for games is most likely due to the growth of the mobile game development sector. There are many ways to play games on smartphones now, making the gaming experience better for users.
It has a lot of young people interested and makes them want to play games on their phones. Developers are striving hard on Android platforms to keep up with the demand for games for mobile phones.
Making a game app is a popular thing in mobile app development after Covid. CTN news says that during the two years that people were quarantined at home due to COVID, new gaming apps grew at a rate that had never been seen before.
In this article, we'll look at the answers on how to create gaming app profitable.
To make a top-rated game app, you must start by choosing the type of game you want. But before that, we will discuss some facts and figures about the gaming app development.

Mobile Gaming Statistics
Several statistics about game apps came out that showed how important it is to make one.
Games comprise 25% of the available-to-download iOS apps and 21% of the open-for-download Android apps.
43% of smartphone use is spent on gaming apps.
62% of people configure a game on their phone within a week of buying it.
78% of gamers use Android App.
There are greater than 2.2 billion active mobile gamers in the world.
9% of all games played on all systems are puzzle games.
Women tend to spend more on in-game items than men do.
Between these numbers and the fact that most people like to play games on their phones, it's clear that the number of Android game apps is on the rise.
As a business owner, we're sure you can't have missed the rise of apps. But this event is also a sign of competition in space that has never been seen before.
How to Create Gaming App: Monetization Model
Here are some ways by which we can earn money from gaming app.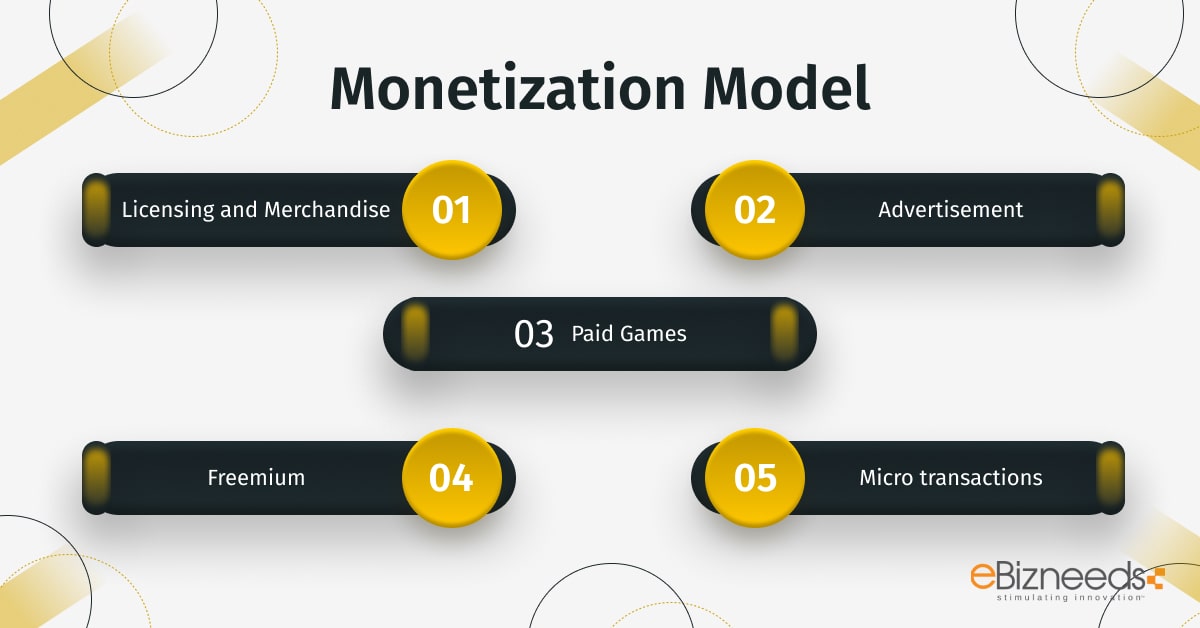 Licensing and Merchandise
In addition to making money with an app, game developers can make unique merchandise and get licenses.
The company that made Angry Birds, Rovio, had such a huge fan base that it could license its game to movies, TV shows, and spin-offs. They also make a lot of money from merchandise.
Over 200 licensing partners make and sell T-shirts, plush toys, phone cases, and other things with their characters' names on them. A theme park for Angry Birds is also being built. In 2011, this way of making money brought in 30% of its sales. By 2012, that number had grown to 50%.
Advertisement
Even free apps could make a lot of money through in-app ads. It can be in the form of pop-ups or videos that players have to watch. It ensures that people can continue playing games and that game developer can keep making money from advertising.
Advertisers are now using mobile game apps to show off their products or service as more and more gamers are choosing to play games on their phones instead of on their PCs or consoles.
Advertisements can be a banner at the bottom of the page. It can also be an ad that pops up in between other things. Interstitial ads work well in games where players must level up, receive rewards, or create in-app purchases.
Contextual ads seem to be another kind of ad. These ads are more a part of the game itself. It can be in billboard ads or traffic regulations, similar to the popular game Pokémon Go.
Paid Games
Paid games, also called "premium," are the easiest way for game developers to make money from their games. Parents like this model better than free games with ads and purchases that can be made inside the App.
For example, Minecraft is a game that can be bought once and played almost forever. No ads or in-app purchases exist so that you can play the game. You will always have a copy of your Minecraft game.
Other mobile games make money through subscriptions or paid extras. Gamers can pay either once a month or yearly to keep playing the game without any breaks. This kind of payment system is used by MMOs, which stand for "Massively Multiplayer Online Games".
But if mobile game developers want gamers to remain interested and subscribe, they need to make a good game and ensure it stays intriguing. So that players of all levels stay interested, obstacles must keep improving, there must be a wide range in the game, and rewards must be incredibly satisfying and worth the premium price.
Freemium
Freemium apps are free to use but have paid upgrades you can buy. Gamers can use it to unlock particular levels or gain additional options that they can't get without paying for a subscription or purchasing something.
Its basic App is free, but gamers looking for additional features can create a "freemium" purchase. It's like in-app purchases but not as obvious or pushy.
Micro transactions
Among the most common ways to advertise game apps is through in-app purchases or microtransactions. It usually gives players things that help them improve their game or move toward the next level. It may also come in unique skins, gear, abilities, or items.
Players get a certain number of lives in games such as Candy Crush Saga. When all these lives are used up, the gamer has to wait before they can play again. With in-app purchases, players don't have to queue to move on to the next part of the game.
To get back to playing, they can buy something inside the App.
Most in-app purchases are also for things you can only get after a certain number of achievements or after putting in a lot of work. With the in-app purchase, getting the items takes less time and work. It also works best when players are in the middle of a game and are prone to acting on impulse.
Players generally make in-app purchases to wrap up a level or obtain a benefit to complete a task.
You can't push gamers too far for in-app purchases or microtransactions to work. If the player has to pay for every step, they will stop playing your game. You also hurt your game app's reputation.
In-app purchases shouldn't give gamers who buy them a huge and unfair advantage over those who don't. Prices for in-app purchases must be reasonable and not too high.
Because many gamers are under 18 and don't have credit cards, gaming businesses also sell gift cards which can be purchased ahead of time and added to a gamer's profile.
Here's a fascinating ideas that shows how much money you can make from create gaming app, even after only a few weeks.
Types of Gaming Apps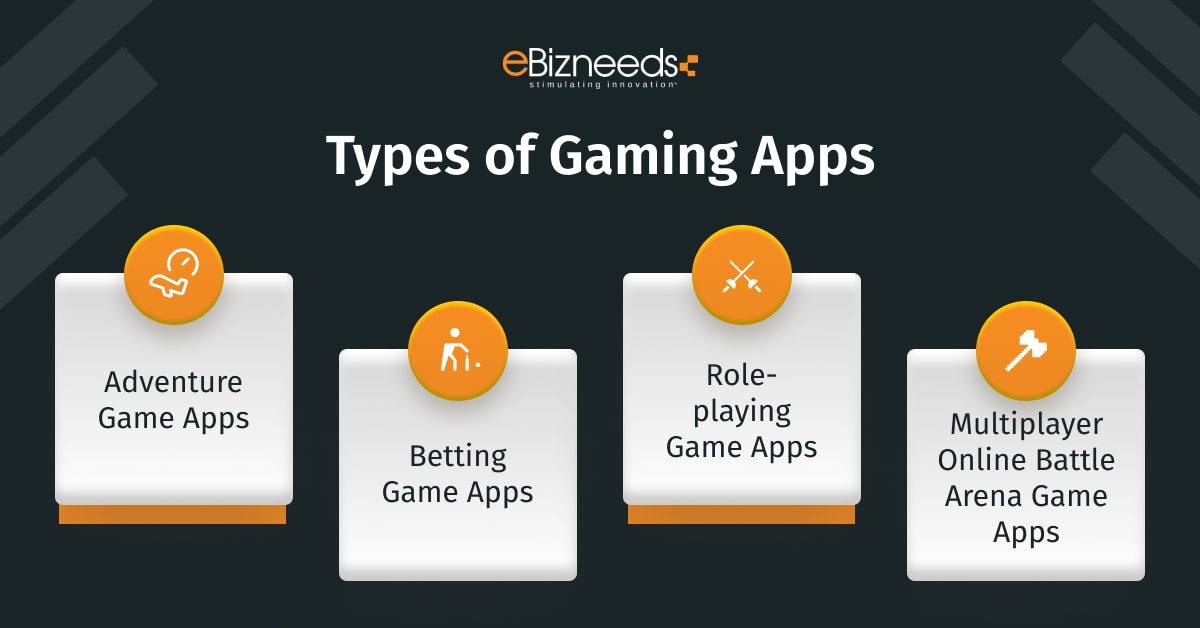 The gaming industry is growing at a rate that has never been seen before. This is true whether you look at the multitude of active apps, the number of downloads, the amount of money made, or the amount of time people spend playing games.
The different kinds of gaming apps could be a reason for this growth rate.
Adventure Game Apps
These are great for players who want challenging games. Adventure games have war and fast-paced action, but they also test your reflexes and make you solve puzzles while you implement a character or transform it into one.
Pokemon GO, The Room: Old Sins and other games are good examples of these apps.
Betting Game Apps 
People all over the world love to bet on sports. These apps get a lot of use whenever a football or cricket match is going on. In card games, this group is also very active.
Even though it is against the law in some places, the US has made sports betting legal, increasing the demand for game developers in that country. These apps appear in places like Las Atlantis and BetUS.
Role-Playing Game Apps
These games seem best for people who like to play for a long time. These are stories with many different parts. Most of them have different journeys, long storylines, many characters, as well as several times of play. Ragnarok and Dungeons and Dragons are two games that use some of these apps.
Arcade Game Apps
The gameplay is the most critical part of these games, not the story or the characters. Most of them have short levels that get harder as you go. Subway Surfers, Fruit Ninja, and Angry Birds are all examples of these apps.
Multiplayer Online Battle Arena Game Apps
In such games, there are two teams, and each player takes on a different role. The goal of a MOBA game is to use computer-controlled components to eliminate the base of the other team. Some games like PUBG, Arena of Valor, and Mobile Legends use these apps.
When making a game app, these are the five best classifications that app entrepreneurs select. But the space is changing quickly, so we can expect to encounter additional apps within the next few years.
It would be best to have a pretty good idea of which group you want to start your business in. But I want to say again that the gaming industry has a lot of rivalries. To keep up with and beat this tough competition, you would need to know how to make a game app for Android that works.
Even though your Android app development company with experience making gaming apps could help you get there, let's save a little time and do it for you.
Let's move on to the next section.
How to Create Gaming App – A Simple Process
If you are interested in developing an app for games, you should engage an Android or iOS App Development Company with a team focused on making games, but it is equally important to know how to create your own app.
Create An Idea
Both the Play Store and the App Store are full of games. In both, there are 477,877 and 316,802 active games inside the Play Store and App Store. Even though you know what category you want to enter, you must think of ideas.
You'd have to look at what's popular in the class, what people like about those apps when they pay in the App, and also what marketing campaigns they respond to.
Through thorough market research, you can find out what your players are familiar with and what they want.
Make Up A Story
People download a lot of PUBG and Clash of Clans because they have stories. A vital part of a game's success is making a story that makes players feel like they're a part of it and wants to see how it goes.
To capture players' attention and keep them engaged, you must figure out how to create a gaming app with a compelling character and gameplay narrative.
Hire the Right Team
It takes a long time to hire someone for game app development. Before you start coding, you must post the job, sort through the applicants, interview the best ones, have them sign an NDA, and explain your idea about how to create a mobile game app.
But hiring good people is an investment in the future that helps you avoid needless delays. In this step, you need to post job ads that say what kind of applicant you want and give a general overview of the task without giving away too much information.
Before you hire a candidate, have them check a nondisclosure agreement because you need to secure your idea.
Build Your Game Assets
All components that make up a game are called "game assets." It includes backdrop photos, level design, animated sprites, 3D models, music, sound clips, and more. In essence, everything that the player sees or hears throughout the game must be developed.
Code Your Game
An interactive video game is created using coding and scripting. Scripting tells the game what to do when the player interacts with it and when things on-screen move around each other. Scripting is employed to control how the game moves and what happens when. The parts of a game are called "assets." The code is what holds everything together.
Ensure the programmers you employ have familiarity with the necessary programming languages. You'll have more programmers who know how to code in the native language of the platform where your game will be released, as well as C/C++ and any other scripting languages your game machine needs.
Test the App
Testing lets you see how your game works when people play it in the real world. Always ensure testing with a wide range of people. Let people of different ages and backgrounds try out your product and see how they use it. It lets you find troubles you didn't expect and fix them. Ask for feedback.
Look at the way they interact with the game. How do you think they should play? Are there any things you could be doing to help them better grasp the game? Is it too hard or not hard enough? Is it entertaining or appealing? Is there anything that needs to be fixed?
In the open beta, anyone can log in and play their game for free before it comes out. Instant Access is when you let people can play an edition of your game that isn't finished before it comes out at a lower price. Both are good ways to test your game and get more people interested.
Market Your App
Before your game comes out, you must start promoting it and getting people excited about it. Make a website and a video to market your game. Ensure it tells talented players what to anticipate from your competition and highlights what makes it unique.
Discuss your play with game journalists and publications. Get people to write feedback on your game and publish them. Set a date for when your game will be out, and make an icon and original cover for it.
Publish Your Game
When you're prepared to put out your game, you'll have to sign up with your selected platform as a developer. Ensure that your App meets all of the quality requirements set by the platform markets. You'll have to get this done before the planned date of release.
If your application is turned down, listen to why and make the necessary changes. Then send in your App again.
Keep Working On It
These days, it's rare to put out an app and be completed with it. Once it's available to the world, you're likely to learn more about bugs, criticisms, and security holes you didn't know about before.
Most likely, you will continue working on your game and figuring out what works to fix any bugs.

Tech Stack Used While Creating Gaming App
Whether you make a game app for Android or iOS, the gaming tools and engines are more or less the same. Let's discuss this tech stack to make a game app.
GameMaker Studio 2
The platform integrates the programming and different drag-and-drop services, making it easy for both non-coders and developers to create new gaming apps. It allows developers to integrate their idea into a C-like scripting language to explore their creativity.
Godot Engine
The game developers support the platform for the more comprehensive assistance it provides via community and documentation. It is used for 2D and 3D, wherein the platform offers unique clear code and sound performance quality compared to Unity.
By using this, we have focused on both the front and back end of how to develop a game app that is a highly productive and profitable one. After discussing how to create a gaming app, we will discuss how much it costs to make an app for developing gaming app.
Contact our game app development company to get responses to all your concern.
Construct 3
The adoption and demand of Construct 3 are rising due to the ease of drag-and-drop services the gaming engine offers. It declines the dependency on writing codes and debugging routines by providing a readymade development structure.
Unity
It is the best choice for people seeking a free game-making platform. It supports both 3D and 2D game types; hence the platform is highly flexible and influential for developers seeking to develop a highly interactive gaming atmosphere.
How Much Does It Cost to Make An App for Game?
After you know how to make a gaming app, you might want to know how much it costs to implement. There are different things to think about when figuring out the price of creating a mobile gaming app.
In this blog, we want to share some of the most important ones based on our great experience as a mobile app development company.
There are numerous factors to consider when determining the cost of developing mobile games. We want to share some of the most important ones here based on our great experience as a gaming app development company.
The average cost to create a mobile gaming apps for the AppStore (iOS) or Google Play (Android) is $3,000. More complex online games may cost up to $150,000. Prices may vary depending on the features you wish to add, including a payment system or other administrative tools.
For instance, these features are 20% more expensive on iOS than Android.
Factors that Affects the Cost of Gaming App Development
More factors than merely the kind and size of the game you create affect costs. Almost all mobile game development falls under this category.
Costs of Pre-Development
Game developers would create a strategy for the GDD paper that contained all the game's elements for the game-making process to be well-structured. This stage is crucial since it will serve as the project's foundation.
Pre-development expenses result from the time and effort required to create the GDD document. These expenses are calculated in various ways, such as using the cost per hour of work.
The pre-development cost, for instance, would be $3000 if the pre-development stage takes 30 hours and the development team costs $100 per hour.
Type of Games
Before game makers give a price for making a mobile gaming app, A set of resources, additional technical papers, and all the requirements and specifics that would be examined in a GDD document are all considered.
The more complex a game is, the more expensive it will be. Here, we'll talk about some different kinds of games.
Small Games
Small games don't have complicated options like how to pay or save your score because that's the best way for game makers to work. Small games may be easy to handle, and simple 2D pictures won't worry them much. Experienced game makers can also make these games in a few weeks or days.
Small games are less likely to cost more than $5000. A small game, however, with a solid 2D or 3D interface, more challenges, and a few additional options for players, may start at $200,000 instead. The majority of the expenses for this category are between $20,000 and $40,000.
We suggest you make a sample game to test your idea and determine why it works. It will cut down on costs and risks.
Medium Games
The games in this class are complicated and give players many different things to do. They have distinctive characters, a more complex plot, eye-catching graphics, an intuitive user interface, engaging music, and even mini-games integrated into the primary game.
This kind of game might cost anything between $60,000 and $120,000.
Large Games
Big games have a lot of material and a story that keeps players interested. They have considered ways to earn money despite the fact they are often free to play. The cost of making this kind of game can be more than $150,000.
Mobile Games in 2D or 3D
The price of developing a 2D mobile game ranges from $5,000 to $20,000. But if the game has additional features, the price might be between $50,000 and $20,000.
The cost of a 3D game is more than a 2D game's cost. This kind of game begins at $20,000 and may cost up to $250,000.
Single-Player and Multiplayer Games
Compared to single-player games, online games can be very expensive because they have more choices. For example, the ability for players to talk to each other, which requires an internet link, adds more to the total cost of making a smartphone gaming app.
Mobile Game Engine
Unreal Engine and Unity are two of the most popular platforms for smartphone gaming apps. Most of the time, they don't change how much it costs to make a mobile game. However, you could have to pay extra if your game's requirements are complex and the mobile game engine software changes while the game is being developed.
Location
Depending on the game creation team's location, the cost of making a smartphone game can range from $30 to $150 per hour.
Marketing
Your mobile game may be entertaining and attractive, but it needs effective marketing to attract users. After investing a lot of money into designing a mobile game, you need to carefully consider how much to spend on advertisements to recoup your costs and profit.
Including marketing charges in your set of costs from the beginning is essential if you want to remain within your budget.
Because of how crucial the marketing budget is, large corporations can spend more on advertising than on developing mobile games. However, in most situations, marketing expenses might account for up to 30% of the total budget to connect with the target audience and generate revenue.
You may get advice from the gaming app development company you work with on how to market your gaming app or make it simpler.
After the creation process is done, it also does sound marketing. The success of a game depends on how well it is promoted, so you should give marketing activities the attention they deserve.
The Freelance Or Paid Game Team
Depending on your job's difficulty, you can choose to work with a skilled mobile app development company like eBizneeds. The first idea is to work with a freelancer to reduce the cost of creating a mobile gaming app.
Still, if the job is complicated, you must hire a team of pros who can do everything. It must also include making game prototypes, designing UX and UI, testing, and giving help. In addition, the results would be very polished.
A Group Makes the Distinction of Imaginative Gaming Specialists
A professional team is needed to create a smartphone gaming app, which is a particular procedure. Selecting a game studio is a significant choice that might affect how your mobile game comes out.
eBizneeds is practical to work with international group experts in entertainment and gaming services. Our comprehensive services include game art services, blockchain gaming, and VFX. Contact us today for our expertise and A-Z services for your projects.

Parting Notes
We have covered steps to create a gaming app and some personal experiences collected by being a game app development company. If we had to sum up what makes a gaming app profitable, we would like to say it is a combination of a set of elements-
Attractive graphics
The sound storyline and character histories
Interesting challenges and updates
Response time of App
Easy-to-use tutorials
Well-strategized rewards facts
Time-tested monetization approaches
Attaining all of this with an in-house team of developers can be challenging. You would require people who think like gamers and have the feasible skillset to provide what you envision and your players need. We have such a kind of team.
Get in touch with our game developers today.
FAQs
How difficult is it to create gaming app on smartphones?
The difficulty of creating a mobile gaming app depends on what kind of game you want to make. We'll talk more about this in the following few parts. For example, making a super-casual game is significantly simpler than creating demanding role-playing software for die-hard players.
How can I create a mobile gaming app?
Your mobile game's design will be determined by the following:
The game's type
The platform you decide to use to create it
The complexity of design, like 2D, detailed, or complex icons
The monetization model of the game
No matter what kind of game you are making, you have to decide on a game engine. Software that is utilized to create games is known as a game engine. We'll examine the many types of gaming systems in the next part.
How can I create a mobile gaming app if I don't know how to code?
A game engine is a crucial component in creating a gaming app. Some of them allow you to create a game app with little to no programming experience. Games may now be completed by non-programmers thanks to platforms like Construct 3, Build Box and Gamemaker.
Different kinds of no-code engines
Plans for games: It lets you change things like the figures, the music, and the backgrounds.
Drag-and-drop tools make doing many different things with game items easier.
Visual coding gives people who dislike coding a visible way to change how actions and things work.
How to create Android games?
"How do I create gaming app on my phone for Android?" is not an easy question to answer. However, the Android Game Development Kit is often used by game developers. According to Google, this "inclusive set of libraries and tools" may be used to create, launch, optimize, and enhance high-quality Android games. See Google's Starting a writing career page for additional details on the initial stages.
How do I create gaming app for the iPhone?
After registering, Apple allows developers to download the Xcode development environment. Apple's Swift programming language can make the most sense if you're solely developing your game for iOS devices.
Your App might leverage new iOS capabilities as soon as they are released if you do this.
However, if you use a third-party software development kit to create your gaming app, you should know that new features may not be added to your App immediately.
Can a smartphone gaming app be made for free?
Smartphone game developers have Access to several free, open-source gaming platforms. See if any of the ones mentioned below fit your requirements by checking them out.
A cross-platform game development tool that is available for free is called the Godot engine.
Armory is an open-source 3D system that makes picture creation very scriptable.
Unity is designed to be a one-size-fits-all option for creators of games.
There aren't many free options for people who want to make their first smartphone game.
It should be noted that listing your programme on the Google Play Store costs $25, but listing it in the programme Store costs $99 each year.
What is the price of creating a mobile gaming app?
You can make a free mobile gaming app using one of the aforementioned free game engines. But eBizneeds says that the average cost of making a game ranges from $3,000 for easy mini-games to $150,000 for very complicated games with a lot of players.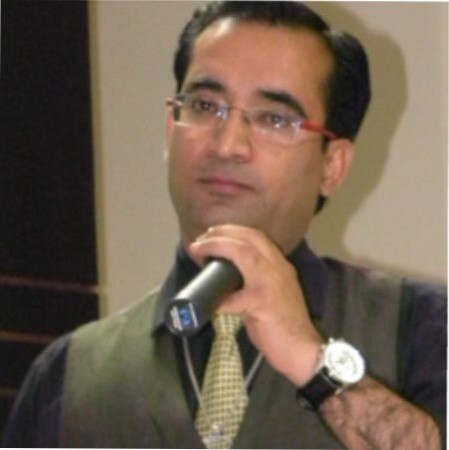 Naveen Khanna is the CEO of eBizneeds, a company renowned for its bespoke web and mobile app development. By delivering high-end modern solutions all over the globe, Naveen takes pleasure in sharing his rich experiences and views on emerging technological trends. He has worked in many domains, from education, entertainment, banking, manufacturing, healthcare, and real estate, sharing rich experience in delivering innovative solutions.