Last updated on October 12th, 2023 at 05:57 am
A website is considered the most important element for a business. It is an unbeatable asset to make your services and products reach maximum users and customers. So if you have planned to move your business online, the first thing that came to your mind was templates, options, freelancers, or even trying the website development process by yourself. And by designing the website by yourself, you thought about going with "WordPress", the most reliable platform for website development. Alternatively, you can hire a WordPress Development Company that will help you streamline your website development process.
WordPress is considered an excellent and reliable CMS for any business, whether they are planning to create a new website or upgrade the existing one. Launched in May 2003, its use as a web development platform has turned out to be a massive choice for developers. Around 43% of total websites have been developed with WordPress, it is considered the most popular content management system. This is the reason why building a website on WordPress is considered a profitable choice. Amazingly, web development companies have been using WordPress since 2008 to empower website development.
WordPress has been in the market as a popular tech-driven platform and the main reason behind its popularity is its ability to easily huge traffics on the website. While searching for WordPress development services, you must be looking for a reliable WordPress Development Company that can offer top-notch services to make your business grow. However, as there are so many WordPress service providers in the market, choosing the best is quite an exhausting task. It doesn't' matter whether it's the first website for your start-up or you are planning to redesign an existing website, hiring a professional WordPress development company is an important decision to make.

Why WordPress is the Best Choice to Build a Website for your Start-up or Business?
If you are a business owner, you must already have a website for your business, or if not, you must be planning to design one. Be it a start-up or a large enterprise, having a website is an important factor to represent their services and expand the online presence of their brand. Nowadays, launching a website is considered as important as launching a business. Most of the business consider building website first to market their services to potential customers even before launching the business in the real-world.
Some researchers forecasted that around 90% of customers prefer exploring over the internet before making any purchase. This makes having a website an important factor, especially for small businesses to promote and market their services to customers. The better is the website, the higher are the chances for small businesses to have an online presence.
As more than 60% of websites are built over WordPress, there is no doubt why it is considered a popular Content Management System. Initially, WordPress was launched as a blogging platform, but with time it has revolutionized as the most popular and flexible content management system, that enables users to create responsively and feature-rich websites. Whether you are a small start-up or a large enterprise, WordPress offers a wide range of solutions to businesses of all sizes and types. This is the reason why start-ups should consider choosing WordPress for developing websites for their business. Apart from this there are several other reasons for choosing WordPress, and we have compiled some of the best reasons for you:
Open Source and Totally Free
Everybody loves using free stuff, and WordPress is an open-source platform, which means it is totally free of cost. You can easily download it for free, install it, and do whatever is suited for your business. For start-ups, it is a great platform as it saves money for creating business websites. You don't need to hire a designer to make edits or add new pages to your website. The money you are paying to hire can be saved and invested in other resources to grow your business.
Being an open-source platform, it has a large community and is maintained by a huge group of professionals. Anyone can use and modify the source code as per their requirements. In case if you are stuck anywhere, you can take help online from the community where millions of active users are available that are always ready to help.
Initially launched as a blogging platform, WordPress is still popular as one of the most popular blogging platforms. This is the reason most of the business making mistake by considering it as only a blogging platform. Since its initial day of launch, WordPress has been evolved a lot and now has been recognized as a flexible platform for website development.
It is more than just a Blog
Continuously growing and moving forward, WordPress is paving its way in the market as a top-notch website development platform. WordPress offers everything that you need to build and customize a website such as customs posts, relational fields, flexible content management, custom fields, and much more. This is the reason why most of the start-ups are choosing WordPress development services to expand the online presence of their business.  
High Security
As it is an open-source platform, everybody can access the code easily. So, WordPress can be considered as an easy target for hackers and a lot of discussions are already made on it. However, WordPress is similar to other content management systems and continuously works to upgrade security patches to keep it as secure as possible.  
As the internet is an uncertain platform, not only WordPress, not a single website is 100%b safe and secure. There is a large team of security professionals that are working 24/7 to make it a highly secure platform. In every few weeks, WordPress releases new upgrades for various plugins and themes to keep the website safe against all types of vulnerabilities. One major benefit of WordPress is that it automatically upgrades itself automatically including its security. So there is no need to worry about anything.
Multiple Media Types
There is no doubt that content plays an important role, but having only content on your website can make it boring. A great way to make your website more engaging and lively for your customers is to attach media such as images, videos, animations, and audio. WordPress comes with an in-built feature to support and handle multiple media types.
If we talk about images, .jpg and .jpeg, .png and .gif are the formats that are supported by WordPress. On the other hand, .mp3, .m4a, .ogg, and .wav. are the audio formats supported by WordPress. For video file types, .mp4, .m4v, .mov, .avi, .wmv, .ogv, .mpg, .3gp and .3g2 are the supported formats. With so many media options, WordPress offers wide range of freedom to make your website more engaging for your customers.  
Online Support and Community
As we already mentioned above, WordPress is one of the most popular open-source content management systems today, anyone can have the access to the code easily. This is the reason why there are millions of active users with a huge team of developers, WordPress communities, and discussions forums.  
The online support and management system of WordPress is huge and excellent. You can easily find solutions to all your queries and issues on WordPress. Some of the most common and frequently asked questions are already discussed on WordPress, which means you can easily find the solution to your problem on WordPress. There are various resources available on WordPress that can help you to learn WordPress quickly. As a beginner, you should check the documentation offered by WordPress that describes everything, from installation to theme and plugin development.
Easy to learn and Use
One of the main reasons why WordPress is gaining popularity as a popular CMS and website development platform among millions of users is that it is easy to use and learn. Even the developers can easily use and learn WordPress. WordPress offers a wide range of articles and step-by-step guides for installation to plugin development. Each member of the WordPress community is available 24/7 and is ready to help you by offering the best solution to your queries.
People with no technical knowledge can also use WordPress easily and effectively. They can easily update or add content on the website without hiring and paying for a developer. So anyone can easily manage and install WordPress.
SEO Friendly
Having a website that is not SEO-friendly is just like having no website. Every business owner develops a website by keeping one thing in mind, that it must be SEO friendly. In this digital world, if your business do not have a good online presence there are chances that you are losing many business opportunities. SEO is that knight which can expand your online presence by defeating your business competitors. Talking about WordPress, it is highly customized for search engines as it is SEO friendly.
WordPress offers streamlined, clean, and consistent code which can be easily indexed by Google spiders. The responsive design and logical architecture of WordPress enable the users to customize each page and post with its own Meta tags, making the websites more preferable for Google. If you are familiar with Meta tags, you can easily take help plugins to create your own Meta tags. WordPress enables you to engage more traffic to your website.
Wide Range of Themes and Plugins
Today, there are millions of plugins and themes available on WordPress that can be customized as per business needs to create websites. From this wide range of themes and plugins, you can choose the one which suits best for your business concept to give it a professional look. WordPress has a wide range of themes for all types of businesses, not only businesses but everything. Whether you are searching for a business theme, portfolio theme, magazine theme, or an eCommerce theme, WordPress has everything you need.
To make your website more functional, you can integrate customized plugins into it. Just like themes, there are thousands of free and premium plugins are available on WordPress that are easy to install and use. These plugins not only add extra features to your website but adds a whole new platform to your website. Both themes and plugins have their own options, so you can easily customize them as per your business needs.
Multiple Users Supported
One other major advantage of WordPress is that it easily handles multiple users at a time. This is the reason why most businesses prefer using WordPress for creating websites for their business as it allows them to offer read-only or editing access to other users. This lessens the responsibility from site owners by enabling others to take over some of the other website responsibilities.
While offering access to your website to other users, you have to hand over the control of the entire website. With WordPress, you get four different author roles including the administrator, author, contributor, and editor. The administrator is the main person which has access to all the data of the website including content publishing and user management. While the editor can edit or publish their own post as well as the post of other users. As the author has access only to publishing and managing their own posts, the contributor can only manage and create their posts. As a contributor does not have access to publishing the posts, the administrator is responsible to manage and publish them.
Keeps Getting Better
With each passing day, WordPress is getting better and better. Since the day of its launch as a blogging platform, it has evolved a lot as a website development platform. The popularity of WordPress hasn't decreased till now; rather it keeps on growing more than ever. There is no doubt that it will rule for upcoming years. The team of millions of active users and professional developers are working round the clock to make it a better platform. This is the reason why WordPress offers amazing features and updates every now and then. If your website is developed with WordPress, it will never go out of trend.

How to find the Best WordPress Development Company for Your Business?
Without any doubt, the very first step will be researched. Look for the websites you love and why you love them, then try to find out the website development company that has created the website. Tapping into your professional network and business reach can be considered too. As every project differs from one another and user's expectations too, finding a good website development company is worth following upon.
While creating a list of all the potential developers, explore their portfolio and case studies to identify the projected they have delivered and the list of companies for which they have worked. Ideally, try to look for a WordPress development project similar to your business expectations. It may look obvious, but it is important to consider more than just a case study. Explore the websites they have developed to check how they work and operate on different platforms. Don't feel shy to contact them during this stage as professional developers love to show off their work. While choosing a WordPress development company, consider the following things to hire the perfect tech partner for your WordPress project.
Explore the Portfolio
It is important to explore the portfolio of WordPress Development Company. The portfolio will help you to have an idea about the industries they have already served. By looking at their portfolio you can decide whether they are worth hiring or not. You should also ask them about the developers who have worked on the project. After exploring the portfolio, ask them about what technologies they used to bring the project live on the screen.
Keep one thing in mind, there is nothing wrong in asking these questions. Their way of answering your questions will help you have a better idea of the development strategies and capabilities of the team. Moreover, you can also find something inspiring from their existing work.
Test their Technical Capability
It is important to know about the technical capabilities of the development company you are planning to hire. Professional WordPress development companies are always updated with the latest tools and technologies. You can ask those questions about the latest trends and functionalities for a successful project.
If you are not comfortable with it, you can ask them to create a small section of your website. This will also help you to know about how the development team and how smooth they are with implementing technology in your website.
Transparent Communication
Keeping communication clean and transparent is a necessary skill for every industry. Here, having transparent communication is the key to the smooth completion of the project. In the very first meeting with the website development company, you should note their communication skills and channels. Explore how they are showing their ideas and trying to understand your business requirements.
Having a communication gap while developing your website can lead to some serious consequences. Moreover, a communication gap can result in a wastage of effort, time, and money. Hence identify how to company keeps the commination channel during the development stage.
Check Their Reviews
Before hiring a website development company, check all the reviews from their previous clients and customers. Read all the reviews and client testimonials to know more about the company. For direct feedback, you can also communicate with their previous clients. Some of the website development agencies post fake reviews on their portfolio.
There are some verified platforms such as Clutch and GoodFirms that post details about various companies with genuine reviews. If a company has overall positive reviews and affirmation, it is safe to go ahead with the hiring process.
Cost of Development
The cost of website development is the basic thing to be considered while hiring a company. However, it is not that much simple as it seems, as you have to compare cost vs. value during the development. There are some service providers that will be charging high costs for hiring, but they will be offering services that are worth paying for. On the other hand, there will be some companies that will be not in your budget and will not offer relevant services too.
Therefore you must consider doing appropriate research about all the factors that may affect the development cost of your project. After that, compare it with other tech partners to get a better idea about the project. The final result of your research will decide whether to go ahead with the development company or not.

The Key Takeaway
Once you have decided to get or update your website, then you must know that going with WordPress is the best option for website development. Hiring a reliable WordPress Development Company is a nice idea as they offer end-to-end services. This guide will help you to know how you can hire the right WordPress development company for your next website project. Hopefully, it will also help you to know about the questions that you should ask while hiring a website development company.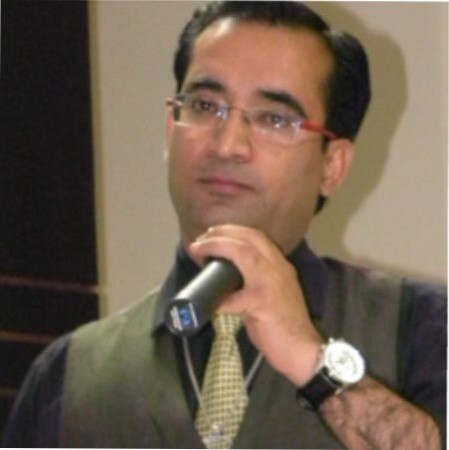 Naveen Khanna is the CEO of eBizneeds, a company renowned for its bespoke web and mobile app development. By delivering high-end modern solutions all over the globe, Naveen takes pleasure in sharing his rich experiences and views on emerging technological trends. He has worked in many domains, from education, entertainment, banking, manufacturing, healthcare, and real estate, sharing rich experience in delivering innovative solutions.