Finding the best app developer to build your loan lending app can be a challenge if you don't know what to look for in the process. On the one hand, you want someone who has experience creating this type of app and can create something that looks nice and functions well, but on the other hand, you want to make sure they charge fair prices based on your budget and timeline constraints.
Here's a quick overview of how much an app like this might cost to develop, along with some features that are commonly included in their work.
The loan lending app development cost depends on your specific needs and requirements, but the cost will vary depending on whether you want to build an Android or iOS app or if you want it to be designed with Material Design in mind.
For example, if you want to create an Android app that uses Material Design, you'll need to work with experienced developers who can guide you through the process and build the platform that will ensure the success of your loan lending app.
Let's start with the cost of having your app designed, developed, and live in app stores, and how that varies depending on the type of loan lending app you want to create.
In general, your average loan-lending app design costs $10,000 to $12,000 per platform (iOS and Android), while the cost of development can range from $12,000 to $20,000 per platform.
There are a lot of people who want to learn about loan lending app development costs as the industry becomes more popular.
Before we get into the blog, let's look at some key statistics that will give you a high-level overview of what's going on in the market. The rest of the blog will guide you through the different aspects of loan lending app development costs.
Key Statistics of Loan Lending App Development
Some of the top statistics about loan lending apps are:
Over 30% of avid online-banking consumers use custom loan apps at least once a month.
In fact, the solution has become so large that it has started replacing traditional loans. The largest provider of personal loans in the U.S. is FinTech.
It is expected that the global digital lending platform market will grow to $20.5 billion by 2028, which means a compound annual growth rate of 24% from 2021 to 2028.
Moving on, in this blog, everything related to loan lending app development will be discussed. Therefore, with this being said, let's get right into it.
How Can I Get Started with Loan Lending App Development?
To get started with loan lending app development, the first thing you'll need to do is assess the needs of your business. Some common things you might want to consider are:
How does the app work?
What features would be most beneficial for your company?
How much time will it take to develop your app?
What features and functions should be included in the loan lending app? Who will use the loan-lending app?
Are there any specific customer groups or demographics that you're trying to target?
What platforms will be available (iOS, Android, Web)?
How much money can you spend on loan lending app development upfront?
Once these questions have been answered, you'll know exactly how much loan lending app development costs as well as what features should go into your application.
What is Loan Lending App Development?
The loan lending app is a mobile-based application that clients can use to benefit from soft loans.
Presently, the expression "loan" here doesn't signify traditional loans that you get from a bank. Instead, these loans are much more limited in term; however, one of their most significant advantages is that you don't need to pay any interest—only late charges if you don't repay on schedule.
Loan lending apps are a typical stage where loan seekers and money banks can address each other's issues. Shared lending apps for loans are growing at a consistently rising rate.
These apps give loan seekers access to options day in and day out without expecting them to genuinely visit a bank or lending centre. These loan-lending apps are ideal for people who need more opportunity and willpower to visit a nearby bank to present their loan application.
The two borrowers and moneylenders of capital are expected to utilize the app, and neither of the gatherings needs any open offices, foundations, or labour force.
Loan lending becomes essential with these apps; everything necessary is for the two sides to settle on similar conditions before loan searchers can accept their money upfront.
Also, being profoundly client-driven, the clients can choose when to reimburse the loan, the quantity of EMIs, etc. There are different advantages that loan-lending apps offer over traditional loans.
In addition to this, loan lending app development has assisted numerous organisations in creating millions, which is why many individuals need to create their own.

What Is the Process of Loan Lending?
Loan-lending apps are a popular solution for fintech app development. And in this section, we will go over how the system works.
These steps are, as mentioned below:
Step 1: The absolute first thing to do is to download the app. In light of the stage, you can download it from the iOS App Store or the Google Play Store.
Step 2: Once the app is downloaded, you can begin by enlisting yourself in the app. The registration cycle requires you to enter both essential and financial information.

There is one more significant interaction that will complete the arrangement cycle at Step 3 (KYC).

Step 4: Investigating the administrations is the next step after the arrangements have been made.

Choosing among different options, you can submit the necessary documents to apply for the loan.

After you have applied, the specialists will do the checks and different things, but the process will take some time.

Your loan sum will be shipped off your record, and you can use it however you see fit.

Step 8: You need to reimburse it since it is a loan. Presently, there are different ways you can make it happen. Possibly, you can do everything at once or use EMI to pay it over a period of time.
Benefits of Loan Lending App Development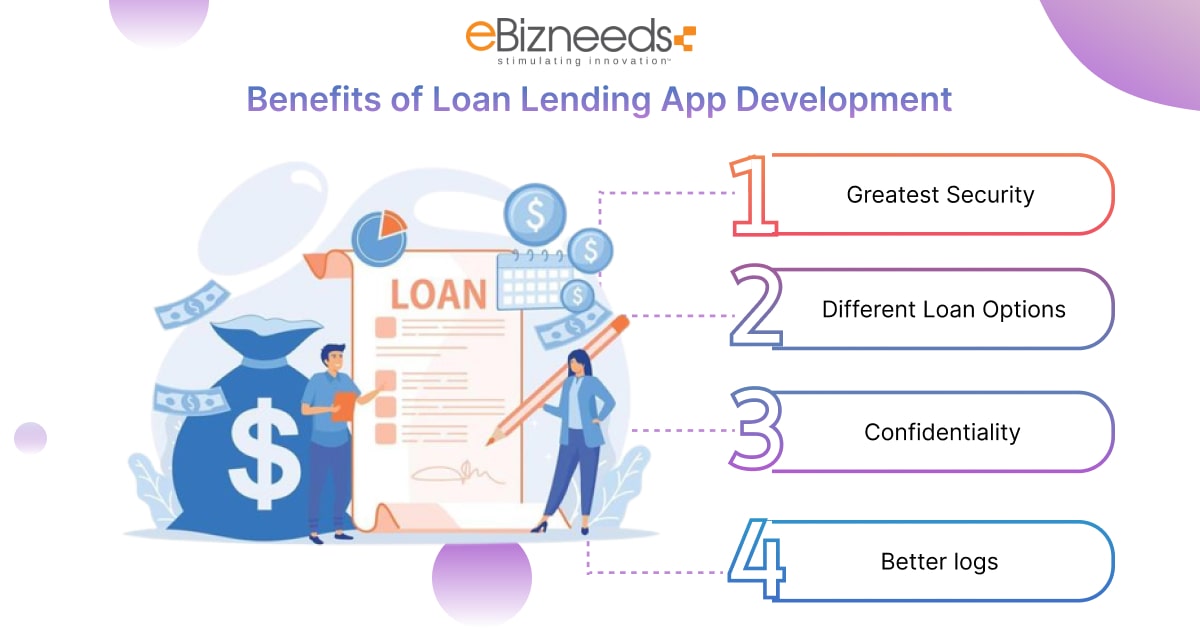 Before you look for iOS or Android app developers for hire, it is a good idea to go through the benefits this solution offers. In this section, we shall be discussing exactly the same.
Greatest security
Apps for mobile money lending utilise a safe, scrambled organisation to send all customer information and monetary transactions. All clients need to do is set up a strong password for their app accounts.
Different loan options
The loans that money lending apps give their clients range from payday loans to personal loans. Everyone needs a loan for an alternate reason, and loan lending app development services satisfy this client's prerequisite.
Confidentiality
Not all loan applications are submitted for a home or another vehicle because specific individuals need loans for covert purposes. A mobile loan application can offer you uncommon protection and mystery.
Better logs
The business bank client experience incorporates transaction records completely. Essentially, automated transaction records are made by mobile lending apps, and it is straightforward to get to these records in the app.
Features to Include in a Loan Lending App
Features are the soul of any application. If you want to create the next best loan lending app, here are some basic features that you should include in it.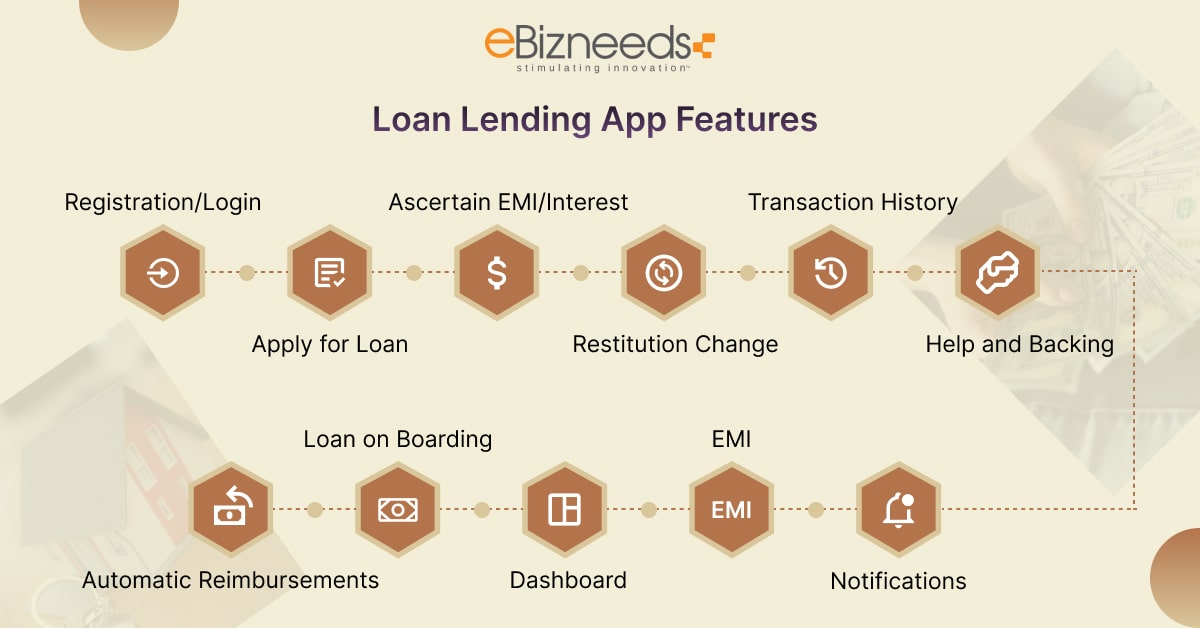 Registration/Login: Clients can join the app by giving their personal and financial details. They can enter the app and use the necessary login credentials once registration is complete.
Apply for Loan: Using this feature, customers can apply for a specific loan amount.They should provide important archives for loan handling and disbursement through the app.
Ascertain EMI/Interest: By utilising this element, clients can compute the monthly EMI and interest for the applied loan.
Restitution Change: Clients can change the loan time frame or course of events they need to apply for to utilise this component.
Transaction History: Clients can look at the subtleties of their past loans by utilising this element.
Help and Backing: Clients can demand loan-related information or help with this option.
Notifications: By enabling this option, clients can get opportune notifications about their impending loan portions, new offers, and so forth.
Clients can move the loan to their ledger by utilising this option.
EMI:Clients can move the loan to add up to their particular ledger utilizing this option.
Dashboard:The administrator can get 360-degree information like total clients, total money loaned, total profit, and so on about the app utilizing this option.
Loan on boarding: The administrator can confirm and refresh financing costs and agreements (T&C) for different loan classes.
KYC: The administrator can oversee different security parts of the loan lending app to forestall any information spillage or unapproved access.
Automatic Reimbursements:By setting up this functionality, you can automatically deduct loan EMIs from borrowers' accounts. This likewise saves moneylenders from missing any loan portions.
Average Loan Lending App Development Cost
The time has come to examine the loan lending app's development cost.
For everyone searching for development costs for their task, we have uplifting news and a piece of terrible news.
The terrible news is that it is close to impossible to foresee the development cost of a mobile app development project without knowing its specifications, as there are too many factors engaged in something similar.
In short, each loan lending app development project is unique. Thus, the cost related to the equivalent is likewise novel.
While you can't find exact costs, you can anticipate that the cost to build a load lending app will be anywhere between $25,000 and $65,000.
To learn more about the same or to get a better estimate of the cost, it is highly recommended that you consult a mobile app development company that can help you with the same.
Moving on, we shall be discussing some of the major factors that affect loan lending app development costs in detail. Therefore, with this being said, let's get right into it:
Factors that Affect the Cost to Build the Loan Lending Application
As one might have guessed till now, there are various factors that can affect the total loan lending app development cost. But what are these factors? Well, in this section of the blog, we shall be going through some of the major factors.
1. Location of the Developers
Location is one of the big factors that can affect the cost of developing a loan-lending app. This is shown in the table below:
| | |
| --- | --- |
| Location | Cost |
| Cost of Loan Lending App Development in North America | $80,000 to $150,000 |
| Cost of Loan Lending App Development in South America | $50,000 to $100,000 |
| Cost of Loan Lending App Development in Europe | $55,000 to $95,000 |
| Cost of Loan Lending App Development in Africa | $40,000 to $60,000 |
| Cost of Loan Lending App Development in Asia | $35,000 to $75,000 |
2. Complexity Of The Loan Lending App And Cost
The complexity of loan-lending apps additionally influences the cost of making them. The reason is that the more mind-boggling your app is, the harder it will be to create.
It will call for more significant investment and more assets. You will likewise have to hire on-demand app developers with more experience.
Every one of these implies more costs than were put on the last tab. By the way, if your app is essential and less mind-boggling, being more pocket-friendly is a good thing.
As a result, the costs to build a loan lending app at various levels of complexity are listed below.
Simple Loan Lending App Development Cost: $50,000 to $80,000
Average Loan Lending App Development Cost: $80,000 to $250,000
Complex Loan Lending App Development Cost: $350,000
We will now move on to other topics.
3. Cost to Build a Loan Lending App: The Developer's Experience
You need to consult an on-demand app development company on the off chance you wish to make a loan lending app.
Hence, the cost of hiring engineers can be significantly influenced by their experience. This is why a factor can affect the overall development cost of a loan lending application.
| | |
| --- | --- |
| Experience | Hourly Rate |
| Senior app developer | $30 to $40 per hour |
| Middle app developer | $42 to $48 per hour |
| Junior App Developers | $49-$65 per hour |
These were the costs of hiring android developers with various levels of experience. Moving on, we shall be going through the different hiring models and the costs associated with the same.
4. How Much Does It Cost To Hire A Loan Lending App Developer?
You need to hire dedicated developers to make a mobile app. Also, there are multiple routes through which you can make it happen. As one would expect, various techniques have their pros, cons, and costs.
Consequently, we should find out the various ways of employing mobile app developers. These are:
Hire a Loan Lending App Development Company
The absolute first option and, by a wide margin, the ideal choice is to reassign your work to an on-demand app development organization.
These organisations have a fantastic team of experienced developers who help them deliver unprecedented results on a regular basis.Hence, it is a decent option. It is pocket-friendly and gives exceptional results.
Employ on-demand app developers
When you reassign the work to an organization, it is called a task assignment. Nonetheless, rather than that, you can hire on-demand app developers on an hourly basis.
This is an option that is very pocket-friendly, which makes it a decent choice assuming that you are tight on a budget.
Form the internal team
This is by far the most expensive option of the three. As here, you don't have to hire developers but instead employ them at your workplace.
Since you have to pay them a full salary, this can get pretty expensive. But it has its own advantages and disadvantages.
How Much Time Does It Take To Create A Loan Lending App?
It is important to understand that loan lending app development costs and time are determined by a variety of factors, including everything from stages to highlights.
A standard loan-lending app takes anywhere from 6 to 9 months of development time, which, in view of your undertaking specifications, tends to be pretty much.
Conclusion
The cost of developing a loan lending app can vary greatly depending on a variety of factors.Now, if you want to learn more about this, you should contact a loan lending app development company that can help you with the same.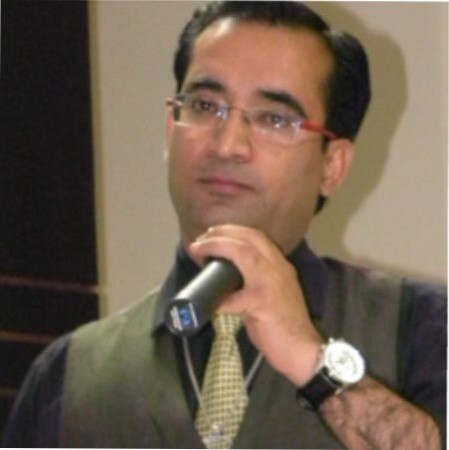 Naveen Khanna is the CEO of eBizneeds, a company renowned for its bespoke web and mobile app development. By delivering high-end modern solutions all over the globe, Naveen takes pleasure in sharing his rich experiences and views on emerging technological trends. He has worked in many domains, from education, entertainment, banking, manufacturing, healthcare, and real estate, sharing rich experience in delivering innovative solutions.