An e-wallet app like Paytm is becoming popular as more individuals use mobile payments for daily transactions. Due to rapid development in the fintech industry, developing an e-wallet app is becoming a sound business opportunity for businesses and entrepreneurs. But the cost of creating an e-wallet app like Paytm can vary as it relies on factors such as app complexity, features, development team's region, experience, and design.
In this blog, we will look at the factors that impact the cost of developing an e-wallet app like Paytm and provide the overall cost estimation.
What is an E-Wallet?
An e-wallet is also called a digital payment. It is a digital version of physical payment that lets users store and manage electronic payment methods. These payment methods are debit cards, credit cards, and bank account details.
Using an e-wallet mobile application, users can make electronic transactions. For example, you can make bill payments, online purchases, and money transfers without manually entering payment data for each transaction.
E-wallet mobile applications are mainly used for mobile payment. It lets users make purchases with their devices, such as tablets, smartphones, or other mobile devices. Several e-wallet apps facilitate additional features like digital coupons and loyalty programs. They can store and handle digital data like events, tickets, and boarding passes.
Some recognized e-wallets apps are Apple Pay, Samsung Pay, Paytm, Google Pay, etc.
Market Size and Statistics On e-Wallet Mobile App
Technology has created a brighter future for eWallet that aids startups in making a good deal from their application. Because more and more purchases are made online, and without touching anything, the e-wallet business has grown a lot. When digital payment apps are used, deals can be done without touching anything.
Let's find some facts that back up this trend.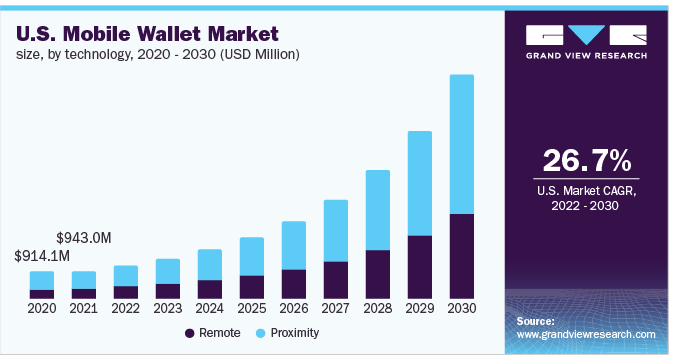 Source: Grand View research
In 2021, the world mobile industry was worth USD 6.2 billion, and it is projected to grow at a rate of 27.4% per year from 2022 to 2023.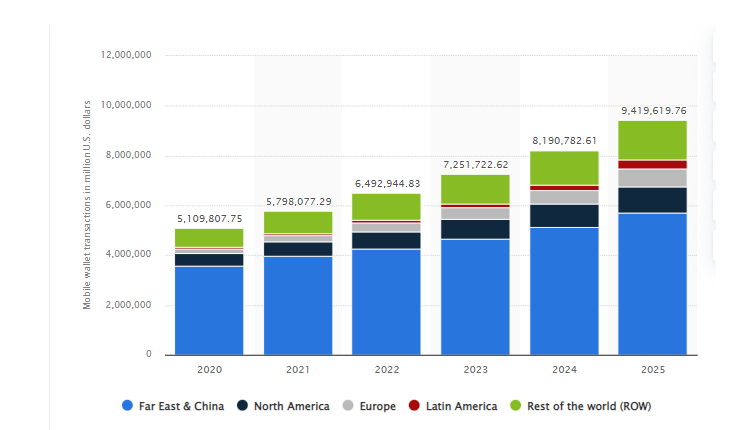 Source: Statista
The e-wallet will have a CAGR of 28.2% over the long term, which is a perfect number.
A study by Allied Market Research says that by 2027, the world market for e-wallets will be worth $7.58 trillion.
The world e-wallet transactions market is believed to be worth $2.1 trillion.
About 66% of people in the United States use the e-wallet app to pay for things.
After COVID-19 and social distancing, more people want to use e-wallets to make digital payments.
Both innovators and entrepreneurs highly focus on the e-wallet app due to their higher potential.
How Does the eWallet Mobile App Work?
The e-wallet app uses different technologies to make financial transactions securely and efficiently. Let's discuss an overview of how an e-wallet app typically works:
User Registration: Initially, users need to download and install the e-wallet app and register for an account. You can find the app either on Apple Play Store or Google Play Store. To sign up, you must fill in personal information like your name, phone number, and email address.
Create an Account: After registration, you must create an account by developing a username and password and linking their payment techniques like debit or credit cards or bank accounts.
Security Measures: e-wallet mobile apps commonly use different security measures to protect the user's data and avoid fraudulent activities. These security measures are multi-factor authentication, encryption, and biometric authentication like face recognition and fingerprint.
Add Money: It lets the users add funds to their e-wallet by linking their bank account, credit card, or debit card. Certain e-wallets app allow users to add money using cash at designated locations like Kiosks or convenience stores.
Make Payments: You can check the balance at any time to see how much amounts are available to make transactions. To pay, you must choose the merchant from within the application, enter the part, and confirm the transaction.
Receive Payments: Receiving payments from other users with the same eWallet app. To get a price, you must provide the sender with the email address and eWallet ID.
Withdraw Money: If you want to withdraw money from your eWallet, you can transfer it back to your account or the credit card. Commonly, there can be a small charge related to the transaction.
Overall eWallet mobile apps provide a secure and convenient way to manage and transfer money digitally using a mobile device.
Types of Mobile eWallet Apps You Must Consider
For considering which types of e-Wallet apps must develop, it is significant to focus on the target audience, the types of payments you support, and the features you want to include. Each type of wallet has its benefits and limitations. Hence it is significant to cautiously assess each option before making a decision.
There are certain types of e-wallet mobile applications that can be used to develop your own e-wallet app. Let's check out these.
Open Wallet
It lets users make payments to any merchants that accept wallet payment gateways. Banks or payment companies commonly issue these wallets. Making payments at any merchant that agrees with the payment gateway can be considered.
Semi-Closed Wallet
It is issued by payment companies or banks. Merchants can apply semi-closed wallets with a tie-up with the payment company or bank. Moreover, these wallets are commonly used by businesses that want to provide a payment choice to their customers. However, merchants must agree to the contract or agreement with the issuer to receive the payment from the semi-closed wallets.
Closed Wallet
This type of wallet is issued by particular merchants or businesses. It can only be applied to make payments to those merchants. These wallets are commonly used by companies that want to provide a convenient payment choice to customers. However, they don't want to pay the charges related to using the third-party payment gateway.
IoT Wallet
It is applied for making the payment to purchase over the Internet of Things (IoT) devices. These wallets are commonly used for small and low-transaction values like paying for parking spots or vending machine purchases.
Crypto Wallet
Using a crypto wallet, you can store and manage your cryptocurrency assets. Such wallets are commonly used to store Ethereum, bitcoins, and other recognized cryptocurrencies. It can be applied for making payments at merchants accepting cryptocurrency payments.
Ready to create your e-wallet app like Paytm? Feel free to reach us today for the best consultation and find out how much it will cost to transform your idea into practice.
Benefits of e-Wallet App Development
The critical benefit of e-wallet app development is that it removes the requirements for consumers to carry physical wallets and hard cash. Here, we will discuss some of the potential of e-wallet app development.
Let's explore each of them in detail.
Low Transaction Fee
Decline the transaction fees for users and merchants using the eWallet application. Premium features or services within the app can enable businesses to create payments. E-wallets can decline the payment processing cost and transfer those savings to the users. It can make eWallet a highly affordable payment choice for users that can raise adoption rates.
Quick Payment Transfer
The E-wallet mobile application enables quick fund transfer by eliminating the requirement for physical payment processing. Users can pay and transfer money quickly and easily using the application.
There is no need to make transactions using physical cards or cash. It can be particularly beneficial for businesses that must progress more transactions promptly and efficiently.
Increased Revenue
eWallet app development can offer new revenue streams for businesses. You can generate additional revenues or more profits by providing premium features or services within the application. For instance, companies can charge a fee to access the premium features or offer discounts and promotions to users who use the app to make a buy.
Expand Customer Base
It can be supportive for businesses to expand their customer base. Companies can attract and retain existing customers by offering a secure and convenient payment option.
eWallet can make it easier for companies to reach new customers in new markets and international markets. It also provides payment choices that are recognized and simple for the users.
Provides Higher Security
E-wallet mobile applications can offer higher security for both merchants and users. Using authentication tech and advanced encryption, e-Wallets can provide a secure payment. It can secure the user's sensitive data from theft and fraud. It helps increase the user's trust and confidence in the application.
Consequently, it leads to increase the adoption rates and also higher usage rates. Moreover, eWallets can aid in declining the risk of fraud and chargebacks for merchants. It leads to reducing the cost and generating profits.
Monetization Opportunities Offered by e-Wallet Apps
Many startups fail in the early stage of eWallets app development because they don't know how to monetize an app in a better way. eWallet app revenue models are the approaches and strategies used by e-wallet providers to develop income and sustain their operations.
We have put together a list of the monetization opportunities offered by wallet apps.
Commission on Billing
Charging a commission on each transaction or payment through the app can be a sound revenue stream for mobile wallet apps. The commission can be either a flat fee or a percentage of the transaction amount.
Advertising
Showcases ads within the e-wallet app are a better way to produce revenue, particularly if you have a more extensive user base. You can display third-party ads or endorse your products or services.
Subscription
Offering the subscription-based model is a good choice if you have premium features or services that users are eager to pay for. You can charge a monthly or yearly fee for accessing such features.
Freemium
A freemium model permits users to download and use the app for free. But you may charge for additional features or functionality. It can be a better way to influence the users and monetize them once they use the application.
In-App Purchases
Providing advanced features or content they buy within the application is a sound option for monetizing the users. It can consider several things, such as advanced security, premium features, and access to exclusives.
Affiliate Marketing
Partnering with other businesses and earning a commission for each sale or referral code made by the app is a sound way to make money. You can recommend or promote the product through referral links and get a commission for each sale or lead produced through those links.
Transaction Fees
Charging a transaction fee for each payment or transaction the application makes is another effective strategy to generate revenues. This strategy is mainly used in payment gateways, eCommerce, and online marketplaces.
Licensing or White Labeling
Licensing the technology or white labeling the app to other companies can be an effective mode to make money. You can charge a fee for their use and provides customization choices to make their app.
Sponsorship and Partnership
Partnership with other businesses to make promotions, discounts, and user incentives. This can lead to generating revenue and increases user engagement.
Crowdfunding
It uses to raise funds for app development or to give rewards or incentives to the users who contribute to the campaign. It can be sound for producing revenues and developing a solid community around your application.
E-wallet App Development Features
The followings are some of the essential features that you must consider while developing an e-wallet app like Paytm:
User Panel
Different features make e-wallet stores a recognized choice among users. Let's discuss e-wallet app development features in detail.
User Registration
Users can register for an e-wallet account through the app by offering primary personal data like name, contact number, and email address. They can also use their social media profiles to sign up for an account.
Add Payment to e-Wallet
Add funds to your e-wallets by linking their bank account, debit card, or credit card.
Add/Authorize Bank Account
You can link their bank accounts to their e-wallet account to add the funds or withdraw the money. The app must have security measures to protect the bank account data.
Check Account Balances
Once payment is added to the e-wallet, you may check their balance at any time to see how much funds are available.
Transfer money to other e-wallet users or bank accounts, allowing you to make transactions securely and conveniently.
Pay Bills or Set up Auto-Pay
Users can pay their bills directly via the apps or set up the automatic payment option to pay bills regularly.
Split Bills
The application allows users to split bills with friends and family. It makes it easier to share the expenses.
Budget Management Tools
The app can consider a budget management tool to support users to keep track of their spending and handle their finances.
POS Integration
The app can be assimilated into the point-of-sale systems to permit in-store payment using the e-wallet application.
View Transaction History
View the transaction history within an app like Paytm to assess the record of their past data.
Send Invites and Earn Referral Points
Invite your friends or family members to join the app and earn referral points for each new user who signs up.
Send and Accept Payment Requests
Users can send and receive payment requests to other e-wallet users, making requesting money from friends and family easier.
Admin Panel
It permits the app owner to manage the user accounts, assess the performance, and make changes to the application. Let's check out the e-wallet app development features for the admin panel.
Manage Merchants
The admin panel permits the admin to monitor the merchant accounts and add new offers or discounts to attract users.
Real-Time Analytics
This feature lets the app owner track the performance and usage and market data-driven decisions.
Auditing and Reporting Features
The app must have reporting and auditing features to ensure compliance with regulations. It must offer transparency to the users.
Users Data Control
It aids app owners in managing user privacy and data protection that ensures the user's data is secure.
Revenue Management
The admin can track the income and expenses and manage the revenue.
Merchant Panel
It permits merchants to handle their accounts, customers, and products. Let's delve a deep more about e-wallet app development features.
Offer Promotion and Discounts
Merchants can offer promotions and discounts to influence customers and increase sales.
Generate QR Codes
QR codes generate in-store payments and let the customers pay for their purchases.
Push Notifications
You can send push notifications to communicate with customers and provide customized offers and promotions.
EMI Payment Options
This offers EMI payment choices for larger purchases and makes it simpler for customers to afford expensive items.
Loyalty Points and Rewards
It can provide loyalty points and rewards to retain customers and motivate them to repeat business.
Advance Features
Advanced features can improve the user experience and make the e-wallet app highly secure, convenient, and valuable. Here, we will evaluate e-wallet app development features in-depth:
In-App Camera
It enables the users to scan the QR codes, take photos of receipts, and consider a visual search bar to find the products and services. This feature makes it simpler for users to complete the transactions and manage their funds within the application.
Chatbot Integration
This feature will allow the app to provide users with automated customer support and assistance. You can also ask questions and get instant answers by using chatbots. Here, you don't need to wait for human customer representatives.
Geolocation
It enables tracking the user's location and offers customized offers and promotions according to their location. This feature can support the users to save costs and find new merchants and services in this sector.
Push Notification
This feature enables the app to send and get real-time updates and reminders to the users. These updates can be related to transaction status, account activity, promotion, and other vital data.
One-Time Password
An additional security measure requires users to enter a unique code to complete the transactions. This feature can support avoiding fraudulent activities and ensures safe transactions.
Steps to Develop eWallet Mobile App
The followings are detailed descriptions of each step of developing an e-wallet mobile app:
Discovery Phase
In this discovery phase, you must conduct market research to assess the target audience, trends, and competition in the eWallet industry. It would be best to illustrate the app's purpose and goals, like whether it is meant to be a standalone app or integrated into the available platform. Moreover, you must determine the timeline, budget, and resources essential for the project.
UI/UX Design
This design phase considers developing the mockups, wireframes, and prototypes of the app's interface. It would be best to emphasize designing an intuitive and user-friendly interface.
It simplifies users to complete transactions, access support, and manage their finances. Moreover, you must ensure the design is consistent with your brand's visual identity and appealing to your target audience.
Development
The development phase focuses on coding and development of features and functionalities of the app. You must select a development platform and programming languages according to the project's needs.
For example, the components and operating systems you want to target. Based on the app's functionality, you must integrate third-party APIs like payment gateways, email verification, SMS, and location-based services. You may also consult with an e-wallet app development company to develop an app in your estimated budget.
Testing
Once completion of the development phase, we conduct testing to ensure that the app is functioning as intended and meets the needs. It provides that app is free from bugs and glitches. You must complete the functional testing to ensure that app features and functionalities perform correctly.
Conduct usability testing to ensure the app's interface is intuitive and user-friendly. Moreover, emphasizes the security testing for addressing and resolving any vulnerabilities that may comprise data.
eWallet Application Launch
Before launching the app, you must deploy the app to the app stores such as Google play store or Apple play store. You must ensure the app is highly secure, meets quality standards, and offers a better user experience.
Moreover, you must develop a marketing strategy to endorse the app and attract users. It considers influencer partnerships, social media campaigns, and also paid advertising.
Maintenance and Support
After launching the app, you must maintain and support it to remain secure and functional. It considers integrating new features and functionalities, fixing bugs and issues, and app updates for new operating systems and devices.
Moreover, offering the users customer support and responding quickly to their problems and feedback would be best.
E-Wallet mobile app development is a complex procedure requiring careful planning, design, and development. By consulting an e-wallet app development company, you can develop an app that offers a secure and convenient method for users to handle their funds.

Tech Stack Required to Develop an e-Wallet Mobile App
Let's break down the e-wallet app development technologies.
| | |
| --- | --- |
| Payment Gateways | PayPal, Braintree, Stripe, PayUMoney, and QuickPay |
| SMS, Voice, and Phone Verification | Nexmo |
| Backend               | NodeJS, Laravel, and Java |
| Front-End | Javascript, Angular, CSS, and HTML5 |
| Cloud Environment | Salesforce, Google Cloud, AWS, and Azure |
| Database | MongoDB, HBase, MailChimp Integrations, and Cassandra |
| Push Notifications | Twilio, Push.IO, Urban Airship, and Amazon SNS |
| Email Management | Mandrill |
| Geolocation | Google Maps API |
| Data Management | DataStax |
| QR Code Scanning | ZBar Code reader and ByteScout BarCode |
| Real-Time Analytics | Apache, Big Data, Hadoop,  and Spark |
E-wallet App Development Cost
A simple mobile wallet app can cost between $25,000 and $50,000 to build, while a complicated e-wallet app with many features can cost between $90,000 and $150,000.
Cost of Building eWallet App For Android
A simple app with just a few features could cost between $20,000 and $45,000, and a more complex app could cost between $80,000 and $150,000.
Cost of Building eWallet App For iOS
A simple app with only the most important features could cost between $25,000 and $55,000, while a more complex app could cost between $100,000 and $150,000.
The cost of building an eWallet app may vary depending on different factors. It is discussed as given below:
Factors that Impact the E-Wallet App Development Cost
We have covered most of the essential factors; hence, you might be wondering what factors influence the e-wallet app development cost. These costs have highly relied on design app design, the complexity of features to be integrated, selected tech stack, and target platforms (android, iOS, or both).
Let's check out these in detail.
App platform
Developing apps for iOS and Android platforms may be costly compared to developing for only one platform. Each development has its development environment and needs, which can increase the e-wallet app development cost and development time.
Features
The more features you want to consider in your eWallet app development, the more resources and time you require. Some standard features of eWallet mobile payment apps include loyalty programs, payment processing, coupons, gift cards, and expense tracking functionalities.
App Design
The design of your e-Wallet app development can affect the development cost. Executing a highly complex or custom design will need more time and resources. The user interface and user experience design are vital considerations affecting the development cost.
App Type
Distinct types of e-wallet apps have different requirements. For instance, a cryptocurrency wallet will need highly complex security measures compared to an open wallet. The kind of app you select to develop will affect the e-Wallet app development cost.
Complexity
The complexity of your app may affect the e-wallet app development cost. Complex features such as biometric authentication or multi-factor security may increase the app development cost because it will require more resources and time.
App Size
The size of your eWallet app can affect the development cost. A large app requires more features, a longer time, and resources. As a result, it may increase the development cost of the eWallet app.
Tech Stack
The technology stack you select for app development may affect e-Wallet app development costs. Using the highly advanced or latest techs may increase the price while using the more straightforward or older techs may reduce the cost. The e-wallet app development technologies can affect the app's performance, scalability, and security.
Location
The location of your development team may influence the development cost because of differences in labor costs and other factors. For instance, hiring a team in a higher-cost region like New York or San Francisco will be highly expensive compared to hiring a team in a lower-cost area like Bucharest.
App Development Team
The size and location of your development team can affect the e-Wallet app development cost. Hiring a larger group or team with specialized skills may increase the cost, while employing the remote unit in a low-cost region may reduce the cost of e-Wallet app development.
Don't let cost prevent you from creating an e-wallet app like Paytm. Our team of developers can support you in developing a customized solution at a price that fits your budget.
Final Note
In conclusion, creating an e-Wallet app like Paytm can be a better investment. However, it can be a profitable choice if you develop it correctly. The cost of developing an e-wallet app can vary depending on several factors, such as features you want to consider, the platform you wish to support, and app complexities.
It is significant to cautiously assess your choices and hire experienced mobile app developers to ensure your app meets users' needs and offers reliable and secure payment choices. Using feasible planning and execution, an e-wallet app like Paytm can deliver millions of users a popular and convenient payment choice.
FAQs
Can I integrate my e-Wallet app with other payment channels?
you can integrate your e-wallet app with other payment modes such as bank accounts, credit card processors, and other digital wallets. It can also offer flexibility and also convenience for your users.
How can I market my e-Wallet app significantly?
There are different ways to market your eWallet app significantly, such as content marketing app, influencer marketing, social media advertising, email marketing, and app store optimization. You can also partner with other businesses to promote and provide referral programs. It can aid in increasing the user base.
How can an e-wallet app benefit my business?
e-wallet apps like Paytm can benefit your business in different ways, such as higher customer engagement and retention, increased revenue, reduced transaction costs, and enhanced security. It can be supportive to expand your customer base and reach new markets.
How long does it take to develop an eWallet app?
The time it takes to develop an e-wallet app relies on different factors like the complexity of the features, development team size, tech stack, app platform, and app size. It can commonly take anywhere from a few months to a year or more to develop a better-quality e-wallet mobile app.
How can I develop my eWallet app to stand out among competitors?
To create your e-Wallet app stand out among competitors, you can emphasize offering a unique user experience, providing special features, offering better customer support, and integrating the other popular apps and services.
You can also make it distinct to your app by giving a larger category of payment choices, higher security, and higher attractive pricing. As a top mobile app development company, eBizneeds helps you to develop your eWallet app that may stand out among competitors.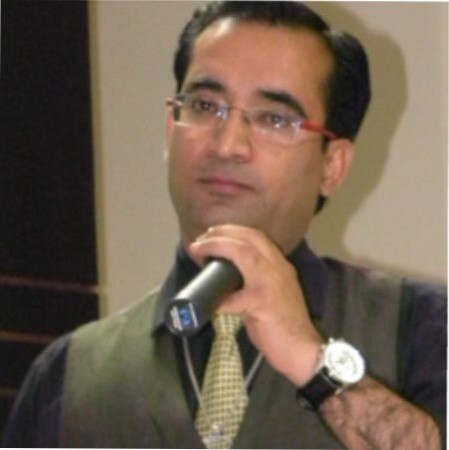 Naveen Khanna is the CEO of eBizneeds, a company renowned for its bespoke web and mobile app development. By delivering high-end modern solutions all over the globe, Naveen takes pleasure in sharing his rich experiences and views on emerging technological trends. He has worked in many domains, from education, entertainment, banking, manufacturing, healthcare, and real estate, sharing rich experience in delivering innovative solutions.