Last updated on October 11th, 2023 at 01:35 pm
In the current scenario, the financial app that aid to invest trade or money in the stock market is progressively dominating the investment sector. The number of investment companies, fintech consulting firms, and brokerage agencies go online.
Therefore, Stock Trading App Development is becoming a great choice to make money and off your saving directly from the coach.
For instance, Robinhood is a commission-free stock trading app launched in the year of 2015. It has increased its impressive recognition in the investment sector. The startup has over 22.5 million annual users and is a primary trading channel for more than 15 million.
The remarkable success of Robinhood investment platform has exposed the larger demand for these apps. Brokerage and dealer companies, intermediary firms, and individuals are ready to participate in the stock market and are also highly interested in it.
Hence if you are considering developing a stock trading platform, now is the feasible time to enter the stock app market.
In this blog, we will be going to discuss the steps to develop stock trading app and launch your app in 2023. But before that, you can have a look at some statistics on stock trading apps.
Statistics of Stock Trading Apps
Stock trading annual app revenues 2016 to 2021 ($bn)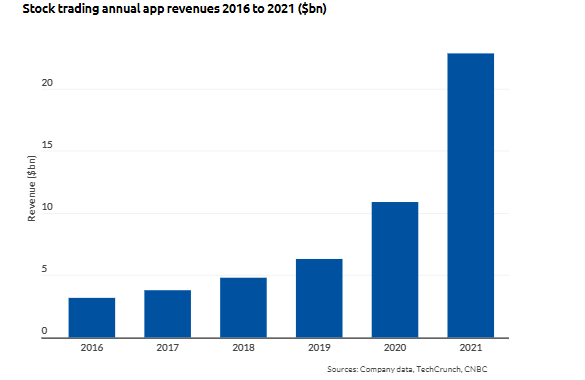 Source: business of apps, 2022
This chart only assesses the stock trading revenue that is originated from trade execution and different fees stockbrokers link to it. Wealth management, saving funds, as well as, other financial services linked to the stock trading channel are not considered.
Stock Trading Revenue by App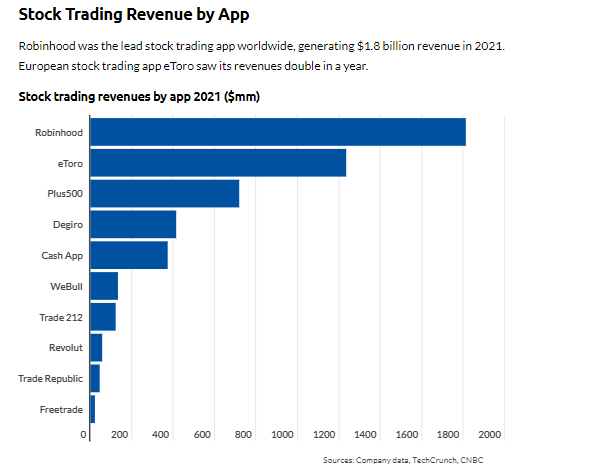 Source: business of apps, 2022
Robinhood was the lead stock trading app globally that generates $1.8 billion of revenue in the year of 2021. Along with this, European stock trading app eToro demonstrates its almost double revenues in a year.
What Are the Different Types of Stock Trading Apps?
The chances to develop best trading app to earn money are diverse. Let's check out most likely choices to develop trading platforms.
Day Trading Vs. Investing
Some people can be best suitable for trading day whereas some can be better fitted for investing purpose.
Moreover, some trading apps like M1 Finance do not allow the users the chances of multiple daily trading and making day trading in this form unsuccessful.
Users can consider these apps as compared to invest. Some apps are ideal for day trading as well as integrating features you will suppose with user-friendly app geared with respect to long-term investment drives.
Hence, you should be attentive towards the customer's needs when developing stock trading apps.
Trading Software by Platform
You may create trade applications that are compatible with mobile and online apps based on the interests of your intended audience. The trading apps can differ from smartphone to smartphone.
Different large industry players have several platforms as possible such as fidelity trading app. There is no app existed for iPad's or smartphones.
As a consequence, this business has investment vastly in building trading apps that makes competent to the customers for accessing their goods via platforms.

Educated Vs. Novice Investors
Some mobile online trading platforms may be most appropriate for new traders. For instance, this is an app like Stash, Acorn, or Robinhood. Some mobile online trading platforms could be more appropriate for novices.
This software is comparable to Acorn, Stash, or Robinhood, for instance. Ameritrade and e*trade are two more platforms that need extra training.
A trading software designed for beginner investors has all the information you want. The expert investing tool, however, provides more complex possibilities like personalized or four-legged spreads. Therefore, keep this in mind while you create the stock trading application.
Online vs. Traditional Stock As Well As Crypto Trading
Although there are many other ways of categorizing trading platforms, we have also included the simplest option here.
Securities and Cryptocurrency
Online share market is a method for buying and selling equities. Without using dealers from your share exchange account, stock exchange is simple. Conversely, cryptocurrency kinds are more specialized; for instance, everyone is familiar with Bitcoin, Ethereum, etc.
The administration of these resources is used by the trading system. The majority of the time, these people purchase, sell, as well as deal in a variety of ways.
Benefits of Investing in Stock Trading Apps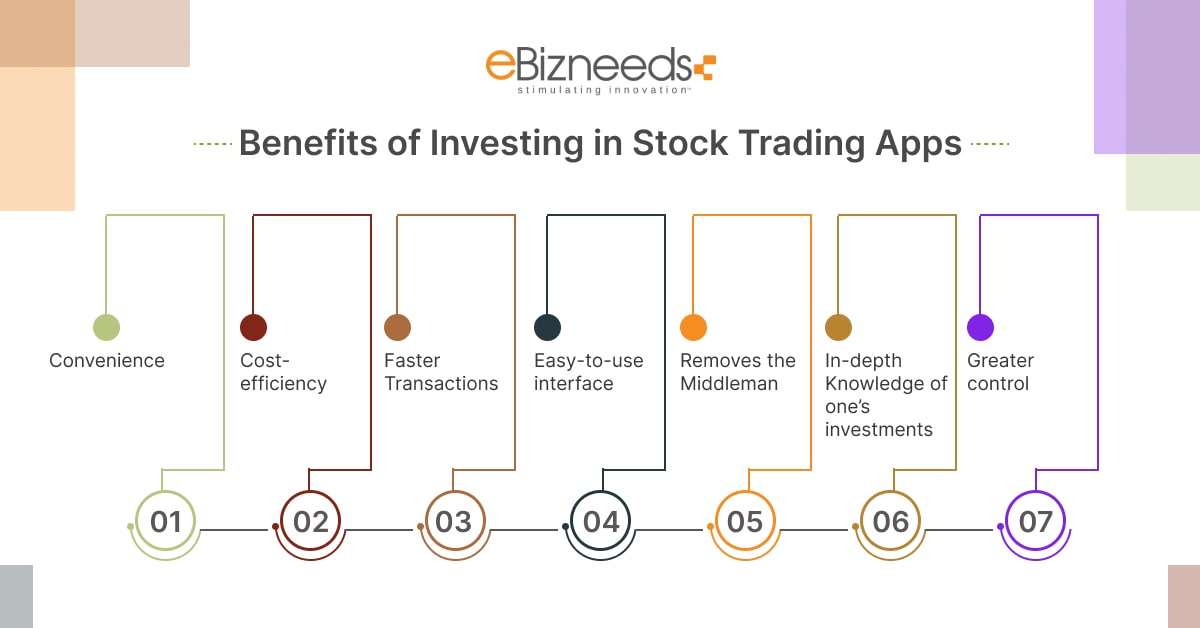 Nowadays, users would not want to focus all of their attention on a single job. A powerful automated software will be ideal for their demands since a growing community is seeking an automated solution.
Such a system will be capable to alleviate the rising concern about inadequate advice and unsatisfactory outcomes.
Convenience
It is an extremely easy and stress-free process to open a trading account through the trading mobile app. By using the mobile internet connection, you may build an account and also keep tabs on your investment at your convenience.
Stock trading app aids in saving time and also permit you to carry out your traditional practices on the go.
Cost-efficiency
Trading via an app can save you more money when contrasted with a stockbroker. A stockbroker's commission and consulting fee in traditional trading are significantly higher than a Robo advisor's commission.
Faster Transactions
Online payment can be done rapidly and efficiently. Money can be send in the account on an immediate basis, specifically while two account have same banks. It is beneficial to buy or sell the stock even in a single click of mouse.
By considering this, a faster exchange rate can be made that makes sure the faster earnings.
Easy-to-use interface and smart tracking feature
Online trading makes it easy to monitor your profit and loss and your investments at your convenience at any time. For example, the MO Investor app is fortified with the 3-click mutual fund SIP feature that demonstrates a detailed update of your SIPs.
You can also find reports that could assist you in tracking well-performing schemes, along with rankings and reviews from experts. With intelligently auto-filled SIP forms, investing has never been more stress-free.
In the case of price movement, you can set the notification alerts for prices with the assistance of the stock price alert app for iOS.
The same illustration can be implied for the stock watch app for iOS, just as the MO trader app can be found by using the global search bar tool. Through this, you can develop your watch list and obtain real-time updates.
Removes the middleman
Stock trading permits you to trade virtually without any direct broker communication. Despite declining overall trading expenses, this benefit will also make trading stress-free and create a highly lucrative service.
In-depth knowledge of one's investments
It is a hidden benefit of stock trading that you will not want to pass up. Just like in traditional stock trading, you can determine the market's behaviour and use this to estimate a rise or fall in the stock price.
You will be dealing with your finances and being accountable for them. Over time, you may become highly experienced in market knowledge and distinguish the best investment opportunities from the bad ones.
This money understanding is also significant, and having this on your resume makes you highly marketable to companies that look to fill well-paying positions in the finance sector.
Hence, while making a quick buck, you also become smarter financially in both your personal and professional lives.
Greater control
With the competency to trade factually at your fingertips, you can purchase or sell without having to rely on the accessibility of your broker.
Investors can directly make trades, assess all their alternatives, and also evaluate their investments on their own without waiting for a broker to tell them what their best choice is.
Since investors can take decisions without any external interference, they have more control over their investments.

Monetization Opportunities in The Stock Trading Apps
Stock Trading mobile apps provide full market access to users. Users of such applications may track transformations in market behaviour, find actual stock quotations, and do a variety of other things.
Companies are increasingly attracting young people's attention to finance by taking stock market app development into consideration.
Let's discuss a bit more about the monetization opportunities in the stock trading mobile apps.
Fee for Membership
According to this revenue model, the user must pay annual membership fees in order to join and be granted access to the stock market.
Charges for Transactions
Every time a user conducts a transaction using the app, the app charges a transaction fee of a certain amount, which generates revenue for the app.
Sell Financial Products
The software may offer various financial goods like insurance, gold exchange-traded funds, as well as mutual funds using this business model.
Sell Early Alerts
Here, the app gives users the option to sell fast notifications in order to make money off of their purchases. Such users get changes here before other application's core consumers.
Advertisement
The owner of the app may charge users to play or display third-party adverts on their stock market investing apps.
How Do Stock Trading Apps Work?
A stock trading app acts as the middleman between the stock market and individual investors.
It systematizes many of the broker's functions, like selling shares, placing orders, and demonstrating stock market data.
At their most basic level, trading apps act like any other fintech application, like mobile wallets.
They permit users to place funds in the application by linking their bank account and physically sending money there.
However, the difference here is that trading apps also act as a marketplace. They link to major exchanges and also list all the financial resources that an individual can sell or buy.
Nowadays, when a user purchases a stock, the transaction does not occur in a real-life scenario.
Furthermore, the app initially sends that purchase order to the exchange and finds someone willing to sell that stock.
Depending on the trading volume of the resources, the procedure can take minutes, hours, or even days.
Most stock trading apps make it easy for users to connect with two main kinds of exchanges.
The first is conventional exchanges such as NASDAQ and the New York Stock Exchange (NYSE), wherein an investor can purchase the shares of public companies.
Some also provide other financial instruments such as exchange-traded funds as well as commodities like gold.
The other type is cryptocurrency exchanges, which allow you to buy and sell cryptocurrencies such as ripple, bitcoin, and ether. These exchanges involve Gemini and Coinbase.
Whenever a trade takes place effectively, the platform will often obtain a percentage of the profits as a fee.
Certain apps charge a flat fee that is advantageous for users who trade high volumes.
The resulting asset or money from the trade is then shifted to the portfolios of the users.
They can also extract their cash at any time that is credited to their bank account or mobile wallet in terms of cryptocurrency.
And that is how trading apps act, in a nutshell.
Certainly, the different offers included features such as real-time market data, research, and learning resources to distinguish themselves from others in the niche market.
3 Best Stock Trading Apps 
The stock market provides different trading and investment opportunities for everyone. Investors to entrepreneurs all want to trade in the stock market for obtaining higher profits.
But, staying updated with the stock market movements is not an easy task. It is a key cause of why stock trading apps came into effect.
Let's explore 3 best share trading apps that help you to maximize profit.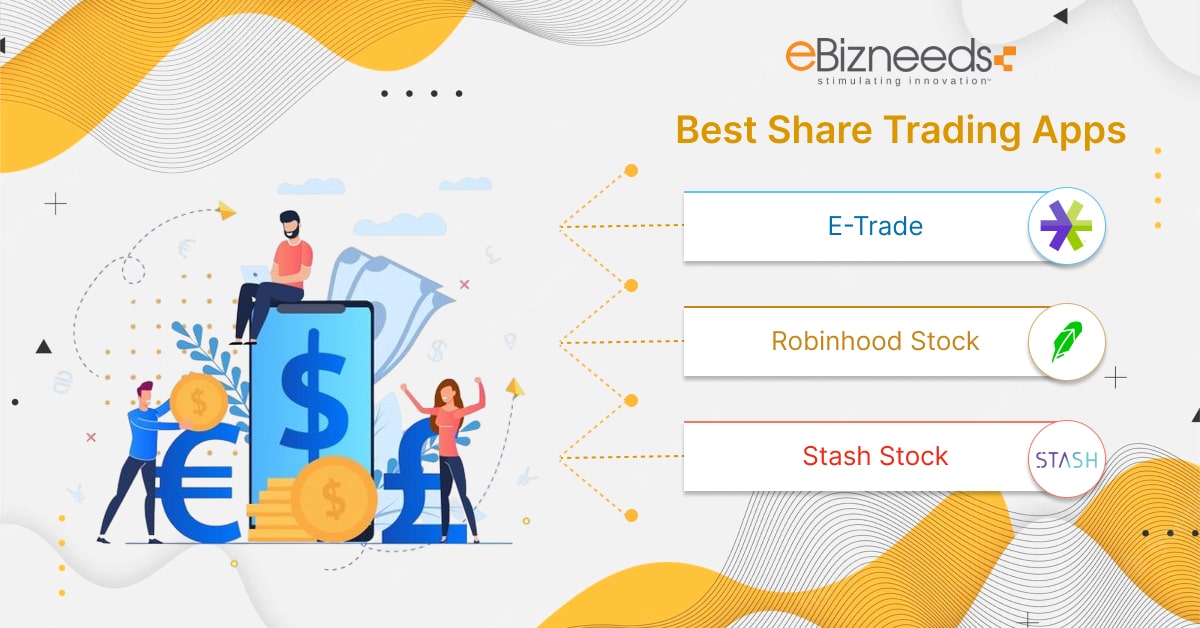 E*Trade
It is often used to be an inventor in the world of internet investment. Silicon Valley claims that the brokerage has begun to provide online trading with the assistance of America Online as well as Compuserve. Additionally, they just released one of the most well-known stock trading applications, the E-trading app.
You may browse investments or place transactions for stocks, mutual funds, and ETFs using the app. You will be only expected to access these select stock market business applications after entering the area. The actual list of available applications is really large.
Robinhood Stock Trading App
One of the most well-known stock trading applications nowadays is Robinhood, which offers free stock transactions. The app's main functions include searching, stock tracking, and stock trading.
You can access stocks, Bitcoin, as well as ETFs in the app's free edition, but if you wish to trade mutual funds, you will need to think about the paying version.
The major reason Robinhood has become a common reference for fintech app development businesses is because it offers a greater range of premium capabilities in its free edition. The main focus is on determining how to create an automatic stock trading strategy that endures.
Stash Stock Trading App
The Stash Stock Trading App is primarily for beginners who want to make their own investing choices while being cautious throughout. While allowing you to spend as little as $5, it also constantly educates you how the financial landscape is changing.
A variety of articles and advice are included in the app to make the whole investing process stress-free. Let us examine in depth how to develop a stock trading system before moving on to the next portion of this article.
Steps to Develop a Stock Trading Apps?
An online platform called a stock trading app enables users to quickly buy, trade, and manage stocks there. Let us talk about the crucial phases in developing a stock trading framework: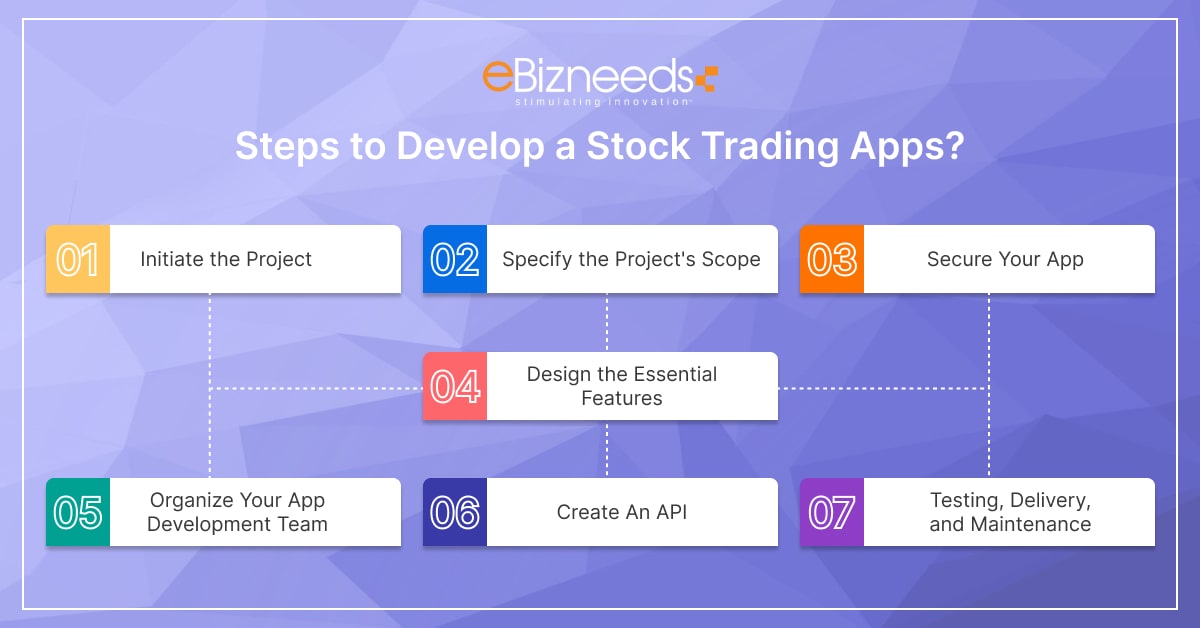 Step 1 – Initiate the Project
Start the project by assembling a team of stock market application developers with a broad range of expertise in financial software services. With the assistance of trading app development company, you may create the MVP, which will include the following steps:
Conducting market research
Scheduling meetings to understand customers' problems and how your financial solution can address their problem
Using methods like a pain-and-gain map to priorities features that are relevant to your MVP.
Step 2 – Specify the Project's Scope
Together with your team, choose the parameters of your trading app development services. Considering functionality and features to be crucial for creating your own trading app. For your app development, you should also pay attention to how long it will take to construct an app.
With assistance from the project managers, customers, and sales team, the developers would set the project's scope and timetable.
Step 3 – Secure your app
When it comes to the build a stock trading app , security is a top priority. Because sensitive data is taken into account during the creation of stock trading applications, the industry is immediately subject to severe rules.
Avoiding app security concerns like injection, XML external entities (XXE), as well as cross-site scripting must be prioritised (XSS).
You should take into account capabilities and features like multi-factor authentication, bank-grade encryption, or next firewalls in order to provide more security.
Step 4 – Design the Essential Features
Use managed cloud services like Platform-as-a-Service (PaaS) and Mobile-Backend-as-a-Service (MBaaS) platform to speed up the development process. After that, you may concentrate on creating and planning the APIs needed to implement the major functionalities.
Use third-party APIs for push notifications and other non-core components. Overall, it creates mobile applications with world-class performance, security, as well as user experience.
Step 5 – Organize your App Development Team
The answer to the crucial issue of "how to construct a stock market app" depends largely on the qualifications and abilities of the development team you assemble and choose. Your team needs the following to create a stock trading smartphone application:
UI designers, testers, JavaScript web programmers, Android developers, DevOps engineers, as well as Swift developers for iPhone app development services.
Step 6 – Create an API
Your suggested app has important aspects that relate to trading. Start creating and configuring the APIs so that the features may be quickly executed.
Use tools like Postman to hasten the testing and API development process.
Use your AWS account to host APIs.
Using authentication, firewalls, blocking, encryption, as well as limits to reduce the risk to API security.
Significantly manage your API development as well as performance settings.
Make sure API benefits iOS, Android, as well as Web platforms.
Creating meaningful URLs that elicit meaningful queries and answers.
Step 7 – Testing, Delivery, and Maintenance
Your stock trading app has now been successfully released, and the difficult testing process for many devices is now necessary. Your QA staff will assist in addressing and eradicating any current issues and malfunctions.
Examining the applications on mobile platforms helps testing be done properly. The flaws are fixed, and both functional and non-functional requirements are recorded.
Additionally, frequent support or maintenance are necessary for your app since it will need to be upgraded as technology develops.
Let us take a look at the collection of fintech app development aspects that would help you understand the process and how it leads to the stage where the well-known stock trading applications are.
Your approach to creating a stock trading app akin to E-trade and Robinhood is to include these capabilities.
Essential Key Features of Stock Trading App
Stock trading apps consider different lucrative features. Some of the exciting features are things like providing free shares and sending alerts to user for bringing individual to the platform as well as, trading without charging the commission.
Due to such exciting features provided by such apps, it has provided an improvement to the demand related to stock trading mobile app development. The hiring of stock market software developers has improved significantly during the last couple of years.
General Features for Stock Trading App
Commission-Free Trading
Share market investment apps in current scenario appeal the traders by providing the features like commission free trading. In this features, the source of income behind broker dealer originates through internet of client funds that were not invested.
Offering free shares
Another way that a stock trading mobile app benefits its users is by providing them free share to bring in their friends and other associates to the app.
Sending Useful Alerts
One of significant features of stock trading app is to regular send the alerts about the situation in stock trading market. By getting these notifications, users will understand what shares to purchase and which ones should sell.
Admin Features for Stock Trading App 
Registration form
Based on best investment apps, users will get the button labelled sign-in/login. When the user is new, there would be another button appear.
Sign-up/register
The key thing that mobile app developers should keep in mind is that they should maintain the user interface simple for the user. In addition, this page would only contain not only the terms and condition for utilising the stock trading mobile app but also the assurance that data of users would be encrypted. You can hire dedicated developers for sign-up or registering option.
User Panel Features for Stock Trading App 
Personal Profile
The profile interface considers everything. All the data from the user's name to language preferences together with, photographs can be addressed here.
Graphs
It is also illustrated as trading functionality and it is one of significant features associated with users. This page has real-time data regarding the market in terms of charts and graphs. It assists the users for addressing the areas that can aid them to grow fiscally.
Reports
Analytic reports aid users for keeping the track of their development in a stock exchange mobile app. Certain share market investment apps are also called for constantly updating their users with automatically created reports.
Payment Options
One of significant features in stock trading and investment app development is payment choice. Users require this choice for the sale of shares and stocks as well as, purchase.
One of significant things that stock trading app developers should keep in mind is that they must focus on payment gateway that secures the personal information and user's transactions.
Advanced Features for Stock Trading App 
Push-notifications related to sudden alterations in the stock market.
Constant update about the share market investment app's newsfeed hence users can get to know what is happening in the stock trading market.
A search engine so that users can access the data or even find the mobile app development company they wish to purchase the stocks and shares for.
It must have techniques that support in sorting and filtering the data.
Things to Consider While Developing Stock Trading Apps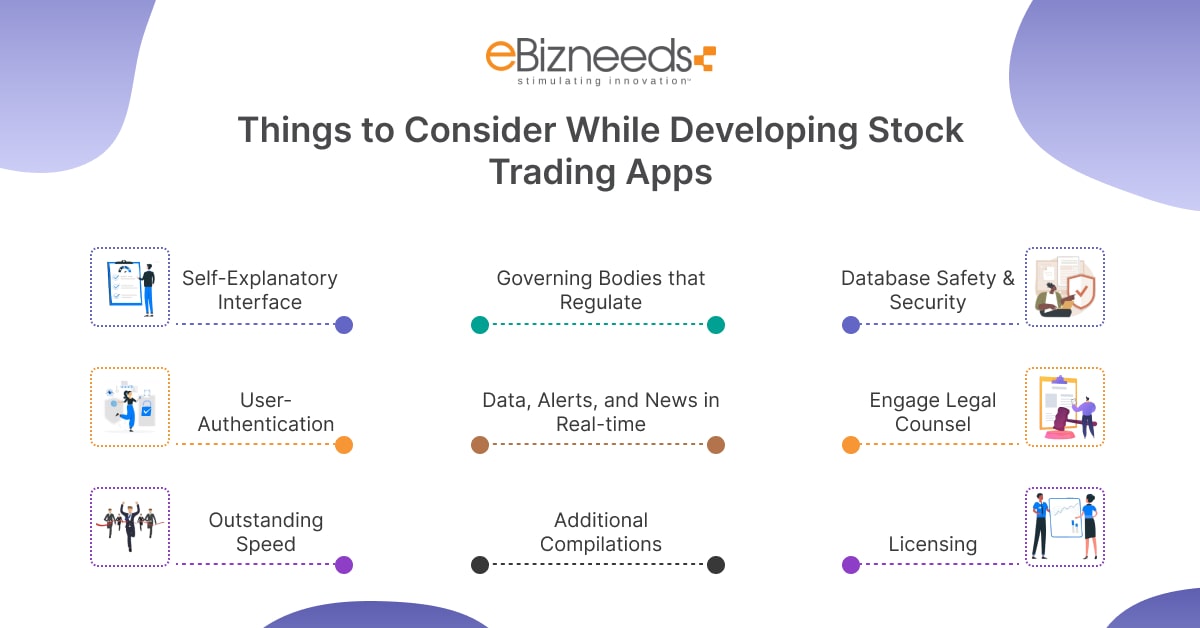 Self-Explanatory Interface
Because not everyone is familiar with how stock trading apps operate, it is often helpful for an app to include a self-intuitive feature that is essentially self-explanatory.
User-Authentication
It is beneficial to maintain the check-in process for the app as straightforward and uncomplicated as possible. It is crucial to provide several login and registration options for the app, including Mail ID, phone number, touch ID with biometrics, and social networking options.
Outstanding Speed
Customers would value a stock market app with lightning-fast performance since the stock market moves quickly, making it important to take such an app into consideration.
Database Safety & Security
Security should always be emphasised wherever money is involved. However, some users find the login confirmation process tedious and detest having to go through it. Therefore, it is important for striking a balance between security and comfort in addition to maintaining the urgency of security.
Additionally, your consumers will not like it if you design stock investing programmes with their convenience in mind and let someone else access to their resources.
Engage legal Counsel
When you have been actively involved in the brokerage business for a while, you should be completely aware of the legality issue. As a result, be careful to promptly engage legal counsel for your application. You might use it to help you choose the finest stock trading software for novices.
Licensing
You must get a performing arts licence in each country you want to work with, including those where your stock market app will be accessible.
Governing Bodies that Regulate
To ensure that everything in the stock market is operating fairly, the government regulates the conduct of brokers. According to the client's requirements and after enrolling with security and exchange commission, the trading app development firm must participate in stock market transactions.
In USA, it is the security and exchange commission. Consequently, if you are preparing to design a trading application, you may consider including the following:
Know Your Customer
Customer Identification Programs
Anti-Money Laundering (AML) (CIP)
Several self-regulatory businesses exist as well, such the MSRB (Municipal Securities Rulemaking Board), NFA (National Futures Association), and CBOE (Chicago Board Options Exchange)
Data, alerts, and news in real-time
The number of users of stock trading apps is significantly increasing as a result of the availability of alerts, news, and real-time data. The users will constantly be informed of the most recent warnings, news, and other developments in this manner.
Additional Compilations
If you are interested in developing a reputation as a trustworthy partner, be sure to take part in programmes like FINRA, SIPC, and other initiatives that protect investors' interests. Obtaining a licence could be expensive, but that is not the most important consideration.
The most important thing is that you do a thorough analysis of all the material you are providing.
Tech Stack Used For Stock Trading App Development
Robinhood is recognized stock trading app, available in both platforms such as iOS and Android. It is highly downloaded application among stock trading apps.
Founded in Menlo Park, California, the app came into effects in 2015 and is known for providing popular services like commission free trading. Absolutely, for using this app, users can trade the stock without paying any fees to the stockbrokers.
Here we have discussed some stages the Stock Trading App must go through before its releasing on Android and iOS:
Table format with the logo of technology
Designing the logo is one of initial phase. When a logo alone does not evaluate the success of an app, the sign can make an impression. For example, Robinhood can be addressed by its sign that is a feather.
Front-end
The front end development procedure turns around the client side of progress. A front end developer for an app is accountable for the appearance and ultimately, the app design. Some of the languages in front-end development are jQuery, CSS, HTML, and JavaScript.
Backend
Moving around the server side of development, you can hire android app developers to emphasize on assessing the functioning of app. Backend developers should work with languages such as Python, PHP, .Net, Rails or Ruby, and Java.
Database
It is crucial element of a smartphone app. Irrespective of the platform, they are accessible on, whether Android or iOS, the database is crucial for developing stock trading app.
Whether it is to create the new app or upgrade the functionality, the availability of proper database is highly important.
Certain well-known mobile app databases are:
MongoDB
PostgreSQL
Cassandra
Riak DB
Memcached
SQLite
MariaDB
InfluxDB
Redis
Other Tools
Let's explore some other apps that you can install on the phone:
Stash
Stash is functional on both web platform and smartphone that is known as Stash Financial, Inc. The FinTech is established in New York and is recognized for allowing its users to invest in specific amount in steps.
Stash has reached over 5 million users that worth $2 billion in 2020.
Stocktwits
It was established in the year of 2008. It was developed as a platform in which, traders, investors, and entrepreneurs communicates and share the ideas. Generating about 5 million users, Stocktwits provides its customer an opportunity to interact with ticker stream simply.
It is promising by applying the symbol of @ and typing that after the username. The content addressed in Stocktwits is also transferrable on other platforms like Yahoo Finance and CNN Money.
Besides that, users can generate content on other social networking sites like Facebook, LinkedIn, and Twitter.
The Cost Evaluation for Stock Trading App Development 
When you are thinking regarding how to develop a stock trading app, a winning approach is to apply the trending features as well as, tech stack. Besides that, you must understand the cost of developing an app. It will aid you to set a budget for your next task.
As a result, it is important to compile all the information on the price of creating a stock trading app. But the cost depends on some factors such as features, tech stack, technology, and framework applied to build the app.
The location also plays significant role to develop a budget as we all are aware that there are different locations in which developers take different charges to develop an app.
Let's check the breakdown that will provide you an idea regarding stock trading app development cost. It will aid you to develop a functional application.
| | |
| --- | --- |
| Location | Stock Trading App Development (Cost Per Hour) |
| US | $30-$60 Per Hour |
| Australia | $35-$80 Per Hour |
| India | $15-$40 Per Hour |
| UK | $40-$70 Per Hour |
It will offer you an idea of which one is good to develop an app for your business. On the basis of this data, you can easily address a reputable agency with years of expertise to develop a successful application.
Wrapping It Up!
These are all significant elements that you should understand before initiating the procedure of stock trading app development. Whereas, these are a few, you can learn more regarding the secret ingredients that aids to develop a best mobile app.
If your purpose is to enhance a loyal user base, then you must deliver seamless and exceptional functionalities and features. It can only be attained when you collaborate with the development team that has relevant experience and the talent for meeting your prospects.
At eBizneeds, we support both emerging and growing entrepreneurs to move towards the digital trends. When you are planning to adopt the technology with open arms then get in touch with our developers today.

FAQs
Which is the Stock Trading Mobile App?
There are different alternatives while seeking the stock trading app. But, it relies on your experience level and what you prefer for trading. For more data, you can also find online to obtain the feasible choice.
Is it safe to use Stock Trading Apps?
Stock trading apps are safer as they are developed by using latest technology stack.
How to earn money from stocks?
Gathering dividends
Short-selling
Marketing stocks for a revenue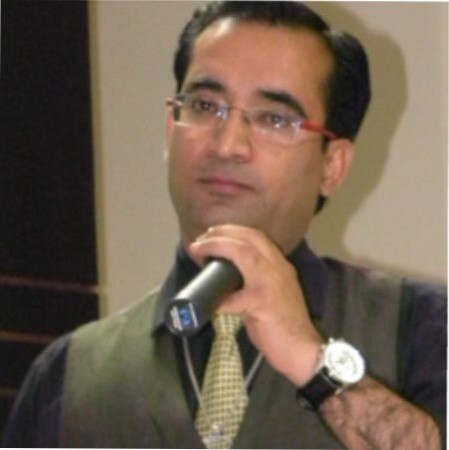 Naveen Khanna is the CEO of eBizneeds, a company renowned for its bespoke web and mobile app development. By delivering high-end modern solutions all over the globe, Naveen takes pleasure in sharing his rich experiences and views on emerging technological trends. He has worked in many domains, from education, entertainment, banking, manufacturing, healthcare, and real estate, sharing rich experience in delivering innovative solutions.