In current business environment, creating a music streaming app like Spotify can be an exciting venture. However, it is significant to comprehend the associated development costs. Developing a robust and feature-rich app needs adequate planning and investment in different music streaming app development aspects.
The cost of creating a music streaming application like Spotify might vary and based on several factors. These factors are the complexity of the features, platform compatibility, the needs for the design, the resources available for development, and continuing maintenance.
This blog will explore the cost of creating a music streaming app. But before discussing the main point, we will develop an understanding of what a Spotify music streaming app is all about.
Let's get started now!
What is Spotify Streaming App?
A Spotify streaming application is software that enables consumers to broadcast music from the Spotify website. Spotify is a well-known digital music streaming service with an extensive catalogue of tracks from various musical genres and artists.
The streaming application permits users to construct their playlists, discover new music, search for specific tracks, albums, or bands, and listen to premade arrangements. It also includes sharing with peers, listening to audio offline, and following Spotify streaming applications that may be utilized on iOS, Android, desktop PCs, web browsers, and smart speakers.
Facts and Figures About Music Streaming Apps
Let's take a closer look at statistics of Music Streaming App.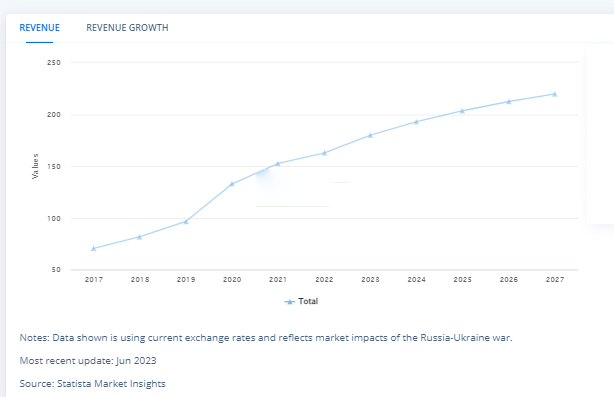 Sources: Statista
In terms of worldwide comparison, the United States will produce the most significant revenue ($10,200m in 2023). The music streaming sector is projected to bring in US$26 billion in 2023.
Revenue is predicted to rise at a compound annual growth rate (CAGR) of 5.13% and reach US$31 billion by 2027. 12.0% of users will be enrolled by 2023, and 14.1% by 2027, according to predictions. By 2027, there will be 1.1 billion consumers of music streaming services at worldwide.
Essential Features to Consider While Developing Music Streaming App
User communication and collaboration are made simpler by in-app messaging and chat features. It enables users of the same app to connect with friends who also use it, exchange music recommendations, and discuss sets. The combination of all these elements provides users with a unique and interactive music-listening experience.
Here is a quick summary of each feature:
Registration
A user's email address, social media accounts, or other form of identity should be used to register or establish an account. Customers may use this to save their preferences, tailor their experience, and access extra services.
User Profile
Users may manage their settings, see what they've previously listened to, follow artists and friends, and alter their locations on their user profiles. It improves the app's personalization and facilitates communication between users.
Social Sharing
Users may share their favourite songs, mixes, or bands on social networking platforms or with other app users using social sharing tools. Individuals may discover new music by hearing about new songs via their friends and connections.
Online and Offline Content
Anyone with access to the internet should be able to view music videos online. Additionally, it is critical to have the ability to download songs, albums, or playlists for offline listening since it allows consumers to listen to music even when they are not connected to the internet.
Discovery and Search
Users may quickly locate the songs, albums, or bands they're searching for, due to a robust search tool. They identify new music that suits their interests and pastimes by utilizing personalized recommendations, handcrafted mixes, and type-based searching.
Recommendations
Music streaming applications often employ algorithms to provide precise suggestions based on a user's music listening habits, favourite tracks, and other data. These recommendations may assist consumers in expanding their musical tastes and discovering new artists.
Create a Playlist
The ability to create and manage groups is crucial. Users may create a playlist to share with others, compile a list of their favourite songs, or create a mix based on a particular subject. Many people can contribute to a mix while choosing music together.
Push Notifications
Users get push notifications when new music from bands they follow is available, when personalized playlists are changed and when other significant news is general. They aid readers in maintaining interest and discovering new books to read.

What Are the Benefits to Creating A Music Streaming App?
It's important to remember that the success of a music streaming app depends on a number of things, including the app's quality, its content library, its user experience, its marketing strategies, and the level of industry rivalry. Obtaining the proper permissions and agreements from content creators is also necessary for legally streaming music.
Here are some benefits of developing a music streaming app in details:
Online Presence
Creating a music streaming app establishes your online presence in the digital music industry. You may reach people worldwide and select a name for yourself among music lovers with the help of a well-designed and user-friendly app.
Premium Charge
You might earn money and make your platform lucrative if you have premium membership plans or paid tools in your app. Users willing to pay for a better method to listen to music or for premium content hence, it may aid in the financial success of your app.
Scale up with Passion
Making a music streaming app is a fantastic way to support upcoming musicians and solo performers by showcasing their work. You may create a platform that supports many musical genres and aesthetics. It allows you to reach at a larger audience and advance in their careers.
Originality At its Best
A music streaming software allows you to create your mixes, recommend tailored material, and showcase lesser-known bands, which is originality. You may differentiate your app from competitors and attract users interested in what you offer by making it distinctive and appealing to specific styles or subcultures.
Interact when living
If your app provides live video capabilities, users may actively participate in concerts, performances, or discussions in real time. With the help of this exciting feature, individuals get more connected, a feeling of community is created, and fans can interact with their favourite bands or artists.
How to Create A Music Streaming App Like Spotify
Making a music streaming app like Spotify is hard and takes time and money. It needs a team of developers, artists, content planners, and marketing experts working together. The cost and time frame will depend on the size of the job, the team, and the features you want.
In order to speed up the development process, it can be beneficial to work with experts and to use tools and systems that are already available. Several steps are involved in creating a music streaming service like Spotify, from market research and analysis to ongoing support and maintenance.
Here is a brief guide that outlines the technique in six steps:
Market Research and Analysis
Conduct in-depth market research to discover information about rivals, target markets, and trends. Look for the distinctive features that will make your software stand out from others on the market. Examine what users want, how they stream music, and which parts are popular.
Describe the Functionalities and Features of the App
Using the results of your market research, decide which elements of your music streaming app are most important and how it will operate. It often involves user sign-up, access to music libraries, playlist building, social sharing, tailored recommendations, offline music listening, and more. Rank the characteristics in terms of their importance and viability.
User Experience (UX) Designing
Create a user interface (UI) that meets the demands of your target audience, is simple to use, and has a pleasing appearance. You must focus on easy browsing, finding information, and making the user experience fun. When designing the app, you should consider mobile and web versions.
Development and Testing
Hire skilled developers and engineers to start the actual development process. Use computer languages and tools that work well with your chosen systems, such as Swift for iOS and Java/Kotlin for Android. Build the server-side technology needed to store music, stream it, and control user data. Test the app thoroughly to ensure it is stable, safe, and works as well as possible.
Licensing and Content Acquisition
Get the rights and permissions to your app needs to stream music properly. Make deals with record labels, singers, and music producers so you can use their music libraries. Ensure artists get paid for their work by setting up a royalty payment method. Follow intellectual property rules and make sure the app doesn't violate them.
Deployment, Marketing, and Ongoing Support
The program should be uploaded to app stores like the Apple Program Store and the Google Play Store after it has been developed and tested. Develop a complete marketing plan to get people to download your app.
Use digital marketing platforms, social media, and partnerships with influencers, and focused ads to reach your target group. Keep users happy by listening to their comments, fixing bugs, putting out changes, and giving ongoing customer help.
During the development process, it's also essential to put flexibility, Security, and data safety at the top of the list. To stay on top of the market, you should update your app often with new features, changes, and bug fixes. Always look at user comments, market trends, and new technologies to improve and change your app over time.

How to Make Money From Music Streaming App?
Based on the value of your app, your target market, and the level of market rivalry, it's crucial to consider a combination of these revenue streams. You must also consider the user experience if you want to strike a healthy balance between making money and providing a pleasant music streaming experience for your customers.
Here are a few well-liked strategies to profit from a music streaming app:
In-App Ads
Displaying advertisements within an app is one approach to monetizing it. You may partner with ad networks or go direct to sponsors to display your visitor's relevant adverts. These advertisements may be banners, interstitials, or videos playing in the app's background or between music. The majority of the time, views or clicks generate money.
Paid Membership
Offering paid memberships or subscription plans is one way that music streaming applications may generate revenue. Users may get additional features and benefits, such as streaming high-quality audio without commercials, playing offline, accessing unique content, and early access to new releases. Users must pay a recurring monthly or annual subscription to access these additional advantages.
Premium Model
You may build up a premium model in addition to a paid membership where users can purchase certain songs, albums, or exclusive content within the app. With this concept, users may buy content they wish to retain forever or get access to limited-edition releases.
Coupons and Promotions
By collaborating with businesses, labels, or artists to give coupons, promotions, or discounts, the app may generate revenue. For instance, you may collaborate with musicians to provide special product bundles or concert tickets with their music releases. Fans would benefit more from this.
Music Streaming App Development Cost
How much it costs to make an app like Spotify depends on how many features and functions you want to add. The price range is often $50,000 to $500,000 or even more. The price may change depending on the app's complexity, the number of platforms it will be built for, and whether or not you choose a skilled development team.
It's also crucial to remember that the cost of ongoing upkeep, modifications, and support will matter.
| | |
| --- | --- |
| Feature | Cost |
| UI/UX Designing | $5,000-$20,000 |
| Backend and Front-end development | $20,000-$50,000 |
| QA and Testing | $5,000-$15,000 |
| Project Management | $5,000-$20,000 |
Factors Affecting the Cost of Building A Music Streaming App
It's important to remember that the cost of making a music streaming app can change a lot depending on these things, as well as whether the app is built in-house or by a third party, how customized it needs to be, and how big it needs to be. You should talk to development companies if you want a more accurate quote based on your needs.
Different factors can change how much it costs to make a music streaming app: Let's dive into each aspect affecting the cost of building music streaming apps.
App Complexity
The features, functions, and connections of the app, as well as how complicated it is, play a significant role in figuring out how much it will cost. Apps with advanced features like custom suggestions, social sharing, offline mode, music integration, or live streaming will take more work and may cost more to build.
UI/UX Design
The development cost depends on how well and complicated the user interface (UI) and user experience (UX) design is. A well-designed, visually appealing app with easy access and smooth user interactions will take longer to create and may cost more.
Platform for Application
The price may vary based on the platform on which the application is developed. It will take more time and resources to build for many platforms, such as iOS, Android, and the web than create for just one.
Size of the Team
The size and make-up of the group can affect the cost. The cost of a project may go up if it needs more developers and experts, like UI/UX designers, server developers, front-end developers, and quality assurance testers.
Location of Developers
The cost can be affected by where the team of developers lives. Rates of development and wage rates change from place to place and country to country. For example, getting workers from places where living costs and pay are higher could cause music streaming app development costs to go up.
Maintenance
You should also consider how much it will cost to keep the app running and add new features after the original creation process. This includes fixing bugs, improving the software, adding security changes, and working with new OS versions. The cost of the app can go up if it needs to be fixed or fixed often.
Tech Stack
The tools and systems used can affect the programming cost. Some technologies may need more specific skills or licensing fees, which can add to the music streaming app development cost.
Feature list
The music streaming app development cost will depend on what features and functions you want to add. Advanced features like social sharing, custom suggestions, music integration, and live streaming will take more time and work to build, which could increase the total cost.
Technology Used to Develop A Music Streaming Apps like Spotify
It is significant to comprehend that the tech stack can vary depending on particular needs and technological choices made by each music streaming app. The table below offers a general overview of the commonly used techs in developing such applications.
| | |
| --- | --- |
| Component | Technology/Framework |
| Front-end | React, Angular, Vue.js, HTML5, CSS, JavaScript, TypeScript, GraphQL, Redux |
| Backend | Node.js, Express.js, Django, Ruby on Rails, Spring Boot, and Java |
| Database | Amazon DynamoDB, MySQL, PostgreSQL, MongoDB, Apache Cassandra, Redis |
| Authentication | OAuth 2.0, OpenID Connect, JWT, and Firebase Authentication |
| Streaming | Real-Time Messaging Protocol (RTMP), WebRTC, and Live Streaming HLS (HTTP) |
| Cloud/Hosting | Amazon Web Services (AWS), Microsoft Azure, GCP (Google Cloud Platform), Firebase Hosting, |
| Content Delivery | Cloudflare, Amazon CloudFront, Akamai, Fastly |
| Analytics | Google Analytics, Amplitude, Firebase Analytics, and Mixpanel |
| Payment Processing | PayPal, Stripe, Apple Pay, Google Pay, Braintree |
Why Choose eBizneeds For Music Streaming App Development Like Spotify?
When hiring a music streaming app development company, eBizneeds is the best choice for you because it provides personalized services. We also have a recognized record of developing high-quality and feature-rich music streaming apps.
Their team has the more comprehensive experience to develop a robust platform that can deal with a larger volume of audio content and also offer seamless streaming experiences.
As a top-notch music streaming app development company, our dedicated app developers work across platforms like Android, iOS, and the web. Hire music streaming app developers to fix the bugs and update the apps timely.
We strive to offer cost-effective solutions without compromising quality. They work closely with the clients to comprehend their budget constraints and deliver a flexible engagement model. It is integrated with their financial goals of developing a music streaming app like Spotify.

Conclusion
In conclusion, the cost of creating a music streaming app like Spotify can vary depending on different factors. The platform compatibility, complexity of features, design, development resources, and ongoing maintenance all contribute to the overall costs. It is essential to conduct thorough research, develop a detailed project plan, and hire a specialized development team to estimate and manage the cost significantly.
Although the investment required may be a substantial choice, developing a music streaming app like Spotify can provide immense growth opportunities, revenue generation, and user engagement in the highly competitive online music streaming industry.
FAQs
Q1. How Is it Secure to Create the Music Streaming App Solution?
Security is a critical aspect of creating a music streaming app solution. Several measures can be embraced to ensure user data security and avoid unauthorized access. These may consider encryption techniques for data transmission, robust user authorization control, secure authentication mechanism, and comply the industry's best standards for securing the data.
Moreover, vulnerability identification, regular security audits, and timely updates to address identified vulnerabilities are sound enough to protect the music streaming app solutions.
Q2. How much does it cost to develop an app like Spotify?
The cost of developing an app like Spotify relies on different factors like features, design requirements, platform complexities, location of a development team, and development resources.
Commonly, developing a music streaming app like Spotify may range from $10,000 to $50,000+. Hence, hiring a music streaming app development company to discuss your needs and obtain detailed project cost estimation is significant.
Q3. How to create a music streaming app like Spotify?
Creating a music streaming app like Spotify considers different steps:
Market Research and Analysis
Describe the functionalities and features of the app
User Experience (UX) Designing
Development and Testing
Licensing and Content Acquisition
Deployment, Marketing, and Ongoing Support
Q4. How long does developing a music streaming app like Spotify take to produce?
The development time for a music streaming app like Spotify can vary depending on the app features, app complexities, and the resources allocated for the project. Developing fully functional music streaming apps, on average, may take longer than months to years.
Factors like the availability of the development resources, the scope of customization, and required platform compatibility may affect the timeline. Hiring dedicated app developers to work closely and create a realistic timeline according to the project needs is significant.
Q5. How do you make money through music streaming apps?
Music streaming app has different revenue models that help you to generate more income. Some of the core revenue models used by music streaming apps like Spotify are discussed below:
Subscription
Advertisement
Partnership and Sponsored content
In-app Purchases
Data and analytics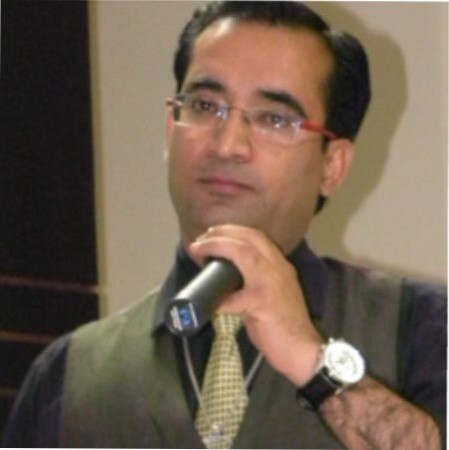 Naveen Khanna is the CEO of eBizneeds, a company renowned for its bespoke web and mobile app development. By delivering high-end modern solutions all over the globe, Naveen takes pleasure in sharing his rich experiences and views on emerging technological trends. He has worked in many domains, from education, entertainment, banking, manufacturing, healthcare, and real estate, sharing rich experience in delivering innovative solutions.