Last updated on June 16th, 2023 at 07:41 am
In the fast-changing tech business, there has been a greater need for skilled workers who can provide end-to-end solutions. As full-stack development has become more popular, it has become an important skill for developers to learn because it allows them to build complex apps using both back-end and front-end development skills.
In this blog, we'll talk about what full-stack development means and how much does it cost to hire a full stack developer.
Definition of A Full Stack Developer
A full-stack developer can work on both the front end and the back end of a website. The front end is the part of a website that users see and interact with. The back end is where data is stored and processed behind the scenes, which requires different skills.
A full-stack developer is a programmer who can use all the tools, methods, and system engineering ideas needed to make software. "Full stack" means all the tools and skills needed to finish a job. Each of these components are called a "stack." Stacks can also be made for the web, mobile, or software.
A software developer will usually focus on one part of development, like the front-end or back-end while a full stack is a combination of both platforms.
Importance of Full Stack Developers in Today's Tech Industry
Full-stack developers know various platforms and tools that helps in websites functioning. There are many reasons why choosing full-stack developers is a good idea. Let's look at some of them in more depth.
Budget-Friendly
Hire a specialized full-stack developer from eBizneeds if you want a better-budget website. Hiring full-stack workers from the right development companies can cut costs at a higher extent. It makes sure the quality is better and saves the most money that would have been spent on hiring different full-stack engineers.
On-Time Delivery
Time is one of the most important things that shows how trustworthy an organization is. A full-stack developer works on both the front end and the back end of a website at the same time. So, it boosts output and ensures products are delivered on the time.
Knowledge of the Latest Trends
Full-stack developers might be able to work on the latest trends. They work on a bigger range of projects, which helps them to learn more and come up with more full answers. Their ideas will be very important for getting good results and keeping up with the latest trends, which can be very helpful for software development.
Effective Troubleshooting
Different things affect how well you can fix a problem. At first, you have to deal with problems and develop workable answers during growth. The next thing is fret about the maintenance after release caused of outsider factors.
Both of these problems can be solved by hiring a full-stack developers. They have dealt with many problems before and understand algorithms for handling it.
Vast Experience
Full-stack developers do many different things and have much knowledge in their area. Because they know with full stack development services, they can do different jobs. Because of this, they can be very helpful to the clients.
Better Work Efficiency
A full-stack developers can handle multiple responsibilities simultaneously, making the team smaller. Also, smaller teams may cause less trouble and misunderstanding because fewer people are on them. So, choosing a full-stack developer makes you more productive and improves your efficiency.
Better Adaptability
Full-stack developers know a lot about different kinds of technology. So, they can change any situation and replace any team member during the software development process. So, full stack development services give a business a lot of freedom, which is a great asset.
All-In-One Answer
Full-stack developers know more about several different tech stacks. They know the most about back-end, database management, and front-end fixing. So, you can hire a full stack developer to help you with all the different parts of making software.
High-Quality Product
You can depend on full-stack developers to finish all your development needs. They can do the whole job without any trouble. Also, they can fit in the middle to ensure better goods are made.
Easy Upgradation
Full-stack developers will improve your website and make updating it easier. They are also very aware of the digital shift that is taking place. They can easily improve the process to ensure you stay on top of business and your audience gets better mobile websites.
The Cost of Hiring A Full-Stack Developer
With a wider gap in demand and supply, full-stack developers often do not come at a cheap rate. We'll discuss the different things that can affects the hiring full stack developer cost.
A. Skillset and Experience
Full-stack developers can make more or less money depending on their skills. For example, developers who have experience with certain computer languages or tools may be able to ask for higher pay than developers with less experience.
The more experienced developer knows more about building and managing complicated apps, which is very useful for businesses.
B. Geographic Location
When picking freelancers and people who work from home, you may want to include where they live. The rate of growth in each country is different.
Also, developers in big cities make more money than developers in other parts of the country because their skills are in higher demand.
C. Supply and Demand Dynamics
Like in any other field, demand and supply greatly impact on hiring full stack developer cost. If there is more demand for technology on the market than supply of skilled people, then the cost of hiring developers will automatically go up.
It often happens when a new tech comes out on the market. There aren't enough developers with current skill sets to meet the demand for resources. The hiring rate is starting to find a mix between workers with new skills and the market.
When technology is outdated, you can look at the opposite effect. As people switch to newer and better tech stacks, the demand for older tech drops significantly, bringing down development rates.
Hiring Model of Full Stack Developers
When hiring full-stack developers, you must look for a plan that fits on your needs and budget.
1. Full-Time Employment
They usually work in an office from 9 to 5. Unlike freelancers and developers who work from home, they need equipment and tools to do their jobs. They are people you've chosen to help to build your key team. They finish every job they are given and stay with the company longer.
Hiring developers is hard and takes a long time, but you'll have a team of loyal and committed full-stack developers when you're developers. You have full control over their work and can easily tell them about any action plan and implement it more quickly.
2. Freelancing or Contract Work
Full-stack developers who work independently are highly skilled experts who do certain jobs from afar. You can pay them to code, advise, or do other straight work. Based on their Skillset, they can handle difficult jobs and finish them on time.
They are usually hired quickly, and companies don't have to worry about them after the job. They can be paid by the job or by the hour. You can hire developers from any part of the world and compare their skills to make a budget before you hire them.
Most of the time, they cost less than full-time workers and are available 24*7 hours. It saves money on gear, training, and infrastructure costs.
3. Outsourcing or Offshoring
Employees who work from home are like freelancers, but they are hired by the company forever. Unlike freelancers, they will have access to different company technologies and must work according to the company's rules and technology stacks.
Being remote, they can exist in urgent cases and can support you in brainstorming. Along with this, they bring new ideas to the process of growth. Unless they are interns or just starting, they can be hired as full-time or part-time workers and paid by the hour, week, or month.
Average Hourly Rates for Full Stack Developers
A. Global Overview of Hourly Rates
Different developers live in different places and charge different hourly rates. Developers with experience in cities make more money than those in other parts of the world.
North America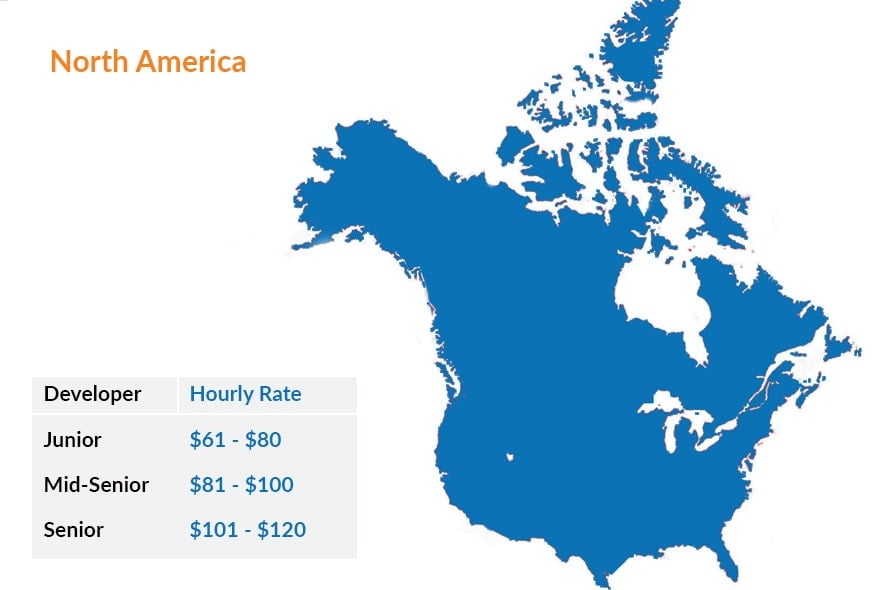 In North America, the hourly rate for hiring a full-stack engineer stays between $81 and $100. These full-stack developer rates can go up to $160 per hour for good app creation.
Latin America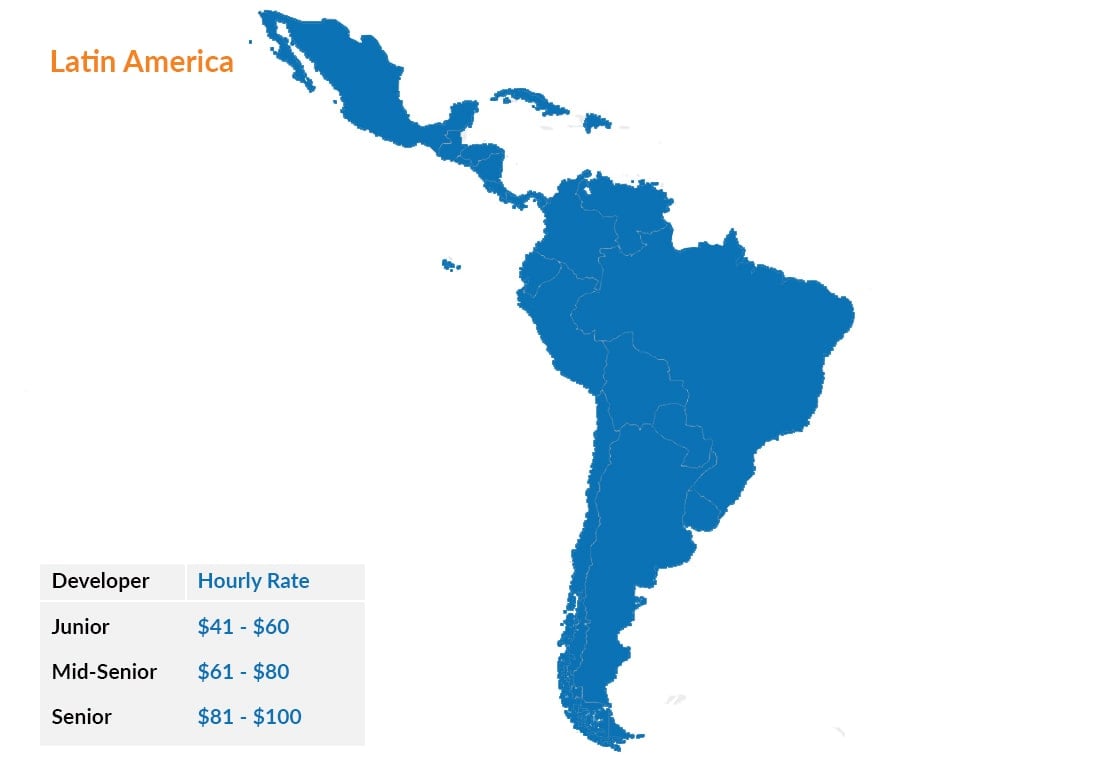 In Latin America, hiring a full stack developer cost between $61 and $80 per hour. It could go up or down depending on the things that affect how much it costs to hire full stack developers.
Europe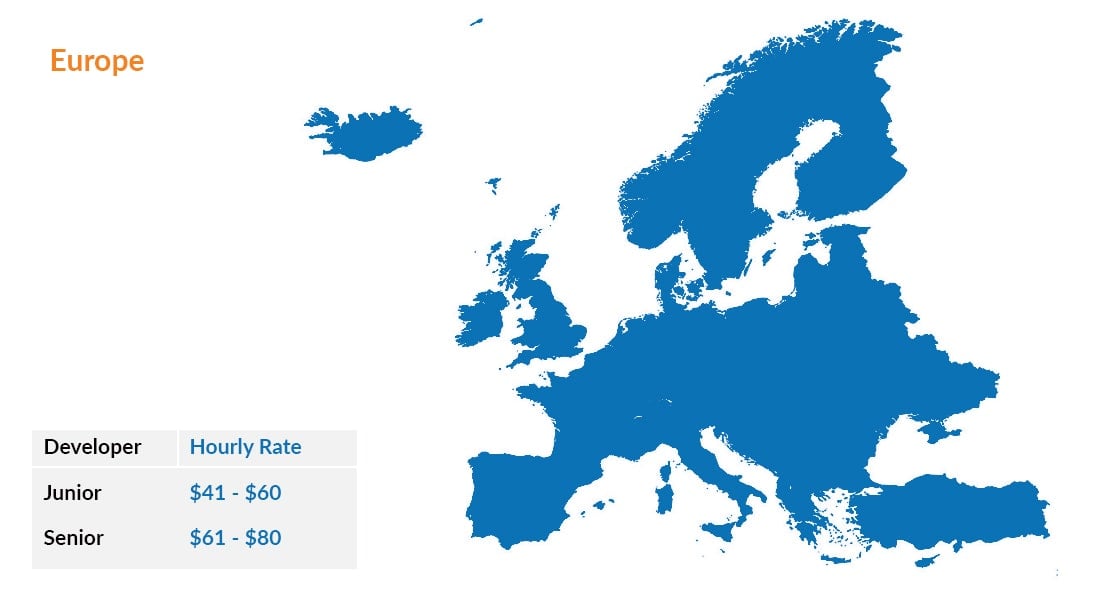 Full stack developer average cost can anywhere from $41 to $80 per hour to hire in Europe. It could go up to $160, based on the knowledge and skills of the full-stack developers that a company hires to help them to make their products digital.
Asia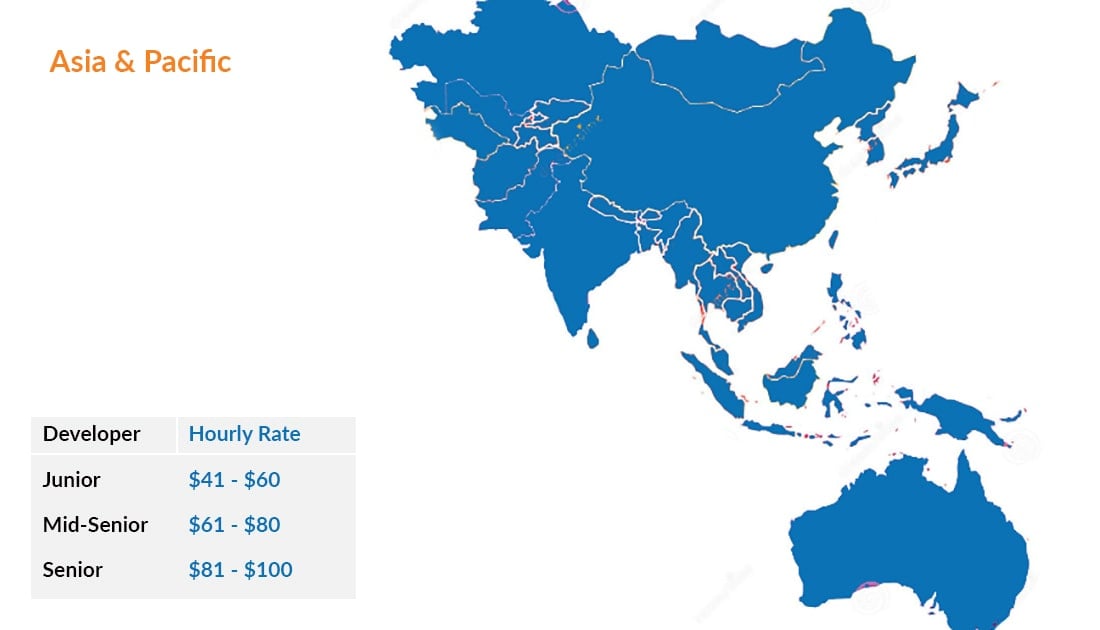 The rates for full-stack developers in Asia and the Pacific area range from $41 to $120. It depends on the basic factors used to compare senior and junior full-stack developers. But full-stack developers in this area still make an average of $61 to $80 per hour.
B. Hourly Rates Based on Experience Levels
In 2023, the average cost of getting a full-stack developer will depend greatly on how experienced and skilled the developers are. Full-stack developers with more knowledge and skills often ask for higher pay and hourly rates.
Junior Full-Stack Developers
Junior full-stack developers usually have one to three years of experience and make an average of $70,000 to $90,000 per year, or $30 to $50/hour, when they work as freelancers.
Mid-Level Full-Stack Developers
Mid-level full-stack developers usually have 3–5 years of experience and make an average of $90,000–$120,000 per year or $50–$75 per hour if they work as freelancers.
Senior Full-Stack Developers
Senior full-stack developers have over five years of experience and usually make between $120,000 and $150,000 per year, or $75 to $100 per hour if they work independently.
Additional Costs and Considerations
How much it costs to hire a full stack developer depends on several factors. The first is the loss of productivity, which always happens when hiring new people. You will also have to pay for costs like hiring and training to help your new hire to join your team.
A. Recruitment and On-boarding Expenses
Recruitment
After compiling a list of candidates, the next step is choosing one.
Assessment
The main cost is a tool used to test the code. You will need the help of a few people on your hiring team to evaluate the applications and give feedback to the candidates. If you ask a developer in your department to take care of it, it will take them an hour to review each entry and make a short statement.
If you had ten applicants and paid your programmer the average US developer salary, this evaluation cost may be $521.
Interviews
Interview fees can vary based on how your process is set up. After the pre-screening call, most people have two in-person interviews. All of these take about 2 hours and 15 minutes to do. The HR managers and a technology team member would likely to be interested.
Let's compare the length of the conversation to the average pay of HR managers and developers to clarify everything. Each person who wants to be interviewed will have to pay $190.
On-boarding Expenses
Indeed you may estimate the average on-boarding full stack developer cost is $400 per employee.
B. Benefits and Employee-Related Costs
Even though there is no data on particular industries, the 2020 Training Industry Report from Training Magazine shows that, on average, US companies spent $1,111 per employee on training in the same time frame.
C. Tools and Technology Expenses
The cost of software is affected by the technology needed to start and scale it. Even though each technology stack has its benefits, they cost very different amounts. The best technology mix is used to determine what the business needs.
As a back-end language, Java is cheaper than Golang because there aren't as many Java developers as there are Golang developers. TypeScript is also much more expensive than JavaScript because it is more complicated and important. But more people use JavaScript.
D. Project Complexity And Scope
When looking for a full-stack developer, you should know a lot about business models, specific project needs, and complexity, such as merging, functions, features, jobs, and exclusive screens.
Once you've figured out what the project needs based on high-tech features like Blockchain or AI, you need to look at the engagement model before you start the hiring process:
Developers with experience are needed to use front-end and back-end technologies
Cloud control needs a certain number of things
Number of APIs from outside
The best technology for making web apps
The set of skills needed for both the front end and the back end
Any licences and permits needed to build the project
E. Communication and Collaboration Tools
Software engineers look for social skills like speaking, writing, and listening well. If a developer speaks English better, they could charge more.
eBizneeds gives recruiters an AI-powered way to test candidates' reading, speaking, listening, and writing skills. It makes things easier for recruiters. In this case, both the people being evaluated and the people being evaluated help from objective and fair evaluation.
Strategies to Optimize Hiring Full Stack Developer Cost
Because the need for full-stack developers is always growing, it is hard to find and persuade skilled people to work for you. In this part, we'll look at ways to find and hire the best full-stack developers for your business.
A. Utilizing Remote and Distributed Teams
Staffing services make it easy to contact skilled people who have already been evaluated for their experience and quality. It makes joining the company easier for great people working from home.
B. Leveraging Freelance Platforms and Marketplaces
You can evaluate the many full-stack developers by putting them into different groups on independent platforms. Some sites for independent work, like Upwork and Fiverr, have fewer tight rules but many choices.
Other platforms, like Toptal and Arc, are a little more strict, but they have high-quality work because of how they choose who to work with.
C. Partnering with Software Development Agencies
The best way to find and hire full stack developers is through staffing companies. These organizations have access to more candidates and can help you to find people who meet your specific needs. You should choose a service with experts in tech picking and a good track record of putting full-stack developers in jobs.
D. Conducting Thorough Candidate Assessments
There are different ways to test ability online, like Testlify that can help you to figure out how well someone is at something technical. These methods usually make tests, code tasks, and problem-solving exercises easier to do. They can also help to automate the process of evaluating the results immediately.
E. Considering Long-Term Value Over Short-Term Savings
When finding the best way to hire people, it's important to consider short-term and long-term saves. Even so, some short-term ways to save money don't work well with long-term ways to save money.
For example, you can save money by hiring people with less experience, but they won't be as effective and efficient as people with more experience. In the long run, it can cause more people to leave their jobs.
Why Hire A Full Stack Developer From eBizneeds?
There are many perks of hiring a professional full-stack developer from a reliable full-stack development company like eBizneeds. We've been selling high-quality goods and services for over 20 years.
It is certified by top tech companies like GoodFirms, Top Firms, Clutch, and many more. When you hire a full stack developer from eBizneeds, you get better security, timely output, highly cost-effective solutions, 24*7 hours customer supports, and so on.
Conclusion
A full-stack developer is the best choice when building your mobile app and website. They would be able to plan and build your project from the beginning to the end. Also, they will work with experts on the back end to ensure everything works right once it is online.
Hiring a full-stack developer can be good for a project in many ways, such as getting someone who knows everything about web apps and is well-rounded. The cost of hiring a full-stack developer can change a lot based on where they live, their experience, and how hard the job is.
When looking for a full-stack developer, finding someone with appropriate experience, good communication skills, and a strong resume is important.
Any full-stack web developer you hire will give you a different result. So, the business can choose the cost of getting full-stack web and mobile app development workers based on its clarity about what it needs and can do.
Full-stack development is also affected by app complexity, platform, and language, which are all things that business owners need to think about when making new products.
FAQs
What is the future of full-stack web development?
Full-stack web programming has a very bright future. There is a bigger need for full-stack developers, expected to grow in the next few years.
What are the primary responsibilities of full-stack developers?
Full-stack engineers are responsible for building, creating, and putting websites online. They also ensure that the back end and the website can talk to each other well.
How to hire full stack developers from eBizneeds?
Hiring a full-stack developer through eBizneeds is a straightforward process. You only need to send us your project details, and our specialized developers will contact you soon.
What is the significant specialization to look for while hiring a full-stack developer?
Before you hire a full stack developer, you should look for the following skills:
Database: Learn how to use well-known databases like MongoDB, MySQL, Oracle, PostgreSQL, and SQL.
Back-end skills: It includes back-end systems and back-end computer languages.
Front-end skills: It considers tools for CSS, HTML, Front-end, and JavaScript.
How much does it cost to develop full-stack applications?
How much it costs to make full-stack mobile and web apps depends on what kind of app is needed, like a trading app, a single-page app, etc.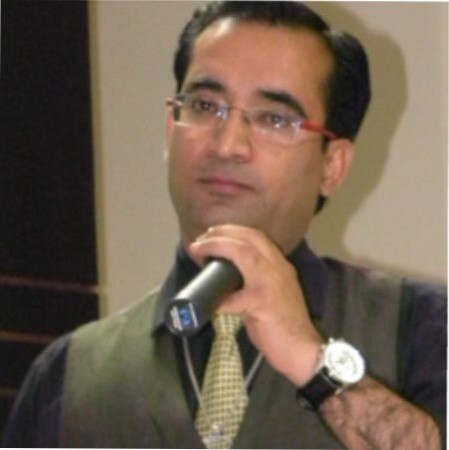 Naveen Khanna is the CEO of eBizneeds, a company renowned for its bespoke web and mobile app development. By delivering high-end modern solutions all over the globe, Naveen takes pleasure in sharing his rich experiences and views on emerging technological trends. He has worked in many domains, from education, entertainment, banking, manufacturing, healthcare, and real estate, sharing rich experience in delivering innovative solutions.