Last updated on October 11th, 2023 at 01:55 pm
How the motivation behind contributing to the technical progress of the world can take eBizneeds to the horizons of success is an inspiring journey. Learn how it happened in the words of Naveen Khanna, the CEO and Founder of eBizneeds Business Solution Pvt. Ltd.
eBizneeds is a global IT service provider. It is a pioneer custom software, web, and mobile development firm that came into existence in 2002 and accredited as a Microsoft Silver Partner and ISO 9001:2000 Certified business.
eBizneeds Business Solutions Pvt. Ltd. is a Jaipur-based Indian company that has its other offices in Melbourne, New York, and California. The company has been evolved with a motive to solve software issues and create incredible user experiences to its worldwide clientele.
Naveen Khanna – the CEO of eBizneeds Business Solutions Pvt. Ltd. discussed deeply in the GoodFirms interview about how eBizneed established and what his responsibilities as a CEO are.
Mr. Khanna does not denote it a story, but a motivation that led him to found eBizneeds Business Solutions Pvt. Ltd. to help IT companies and solve their software-related issues. He shared that they were always fascinated towards developing innovative mobile app development solutions, web development, and software development for the business.
He had enough experience when he dreamt of bringing his own IT business into reality with the objective of letting the businesses meet their goals utilizing high-quality techno-solutions.
In 2002 in cooperation with other founder members, Naveen led the foundation of eBizneeds Business Solutions Pvt. Ltd. where the solutions are developed with care and the clients are leveraged with their respective or industry-oriented businesses. He said he has to look after all the ongoing tasks within the company and remain in sync with all the teams being the CEO of the company.
As he adds further, the company believes in collaborative efforts and values the suggestions from all members. This is the reason why he has to remain available to his members all the time.
Naveen affirmed that eBizneeds is a leading and profound name in the field of dedicated backend software development services that provides expert development solutions to its global clients including startups, mid-level businesses, and onshore and offshore IT-giants.
The company entirely works on an in-house business model where experts have diverse design and development related skillset to serve their clients worldwide.
Naveen pressurizes over the diverse and unique nature of the company that always intends to create something fruitful that a business can leverage for their client serving and operational efficiency. The team works with complete dedication whatever genre it is. Expert professionals use genuine tactics to fairly compete with their competitors and this makes the company different from its counterparts.
Regarding the industries, eBizneeds caters to, Naveen confirmed that the company covers all types of industries for their qualitative and reliable mobile app development, software development and web development needs including Education, Healthcare, Food Industry, Transportation & Logistics, Manufacturing, Real Estate, and Hospitality.
Usually, the repetitive customer ratio remains between 65% to 70% and the latest technology solutions are offered utilizing Node.js, AngularJS, Laravel, AI Development, SaaS Development, Blockchain Development, and many other platforms.
Mr. Khanna stresses over an honest review and rating system. eBizneeds honestly relies over the client reviews and owns 78% to 82% of the customer satisfaction rate due to satisfactory services provided.
The company is ranked as a top IT service provider in Jaipur and top IT services provider in Australia as well due to its distinguished services and exceptional abilities to manage its clients base. The client reviews displayed below are a proof why eBizneeds is always preferred over its nearby competitors and assures valued results.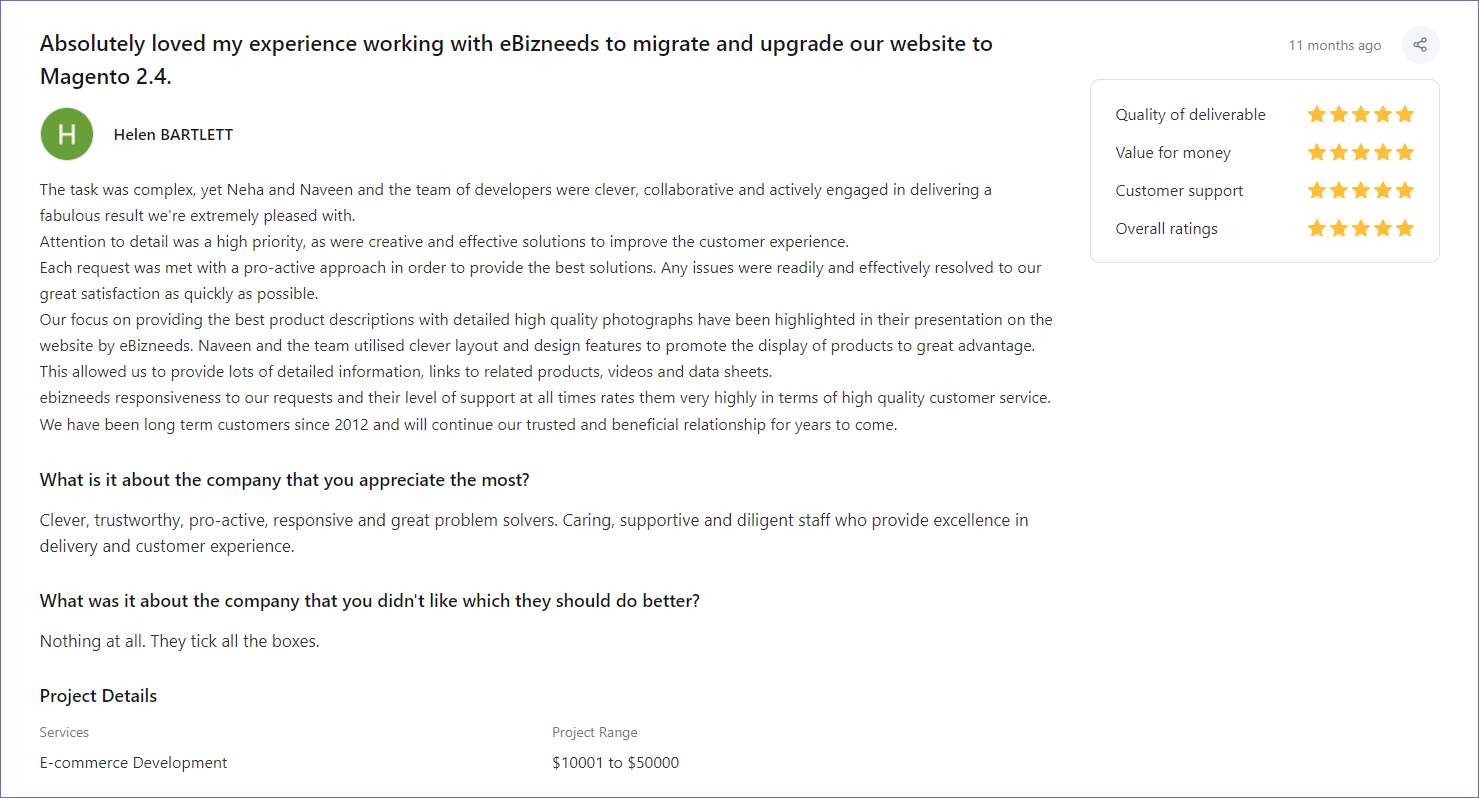 Mr. Khanna assures that the support system of the company works all the time to handle queries and issues of their clients. The team works in synchronization from idea formation to the delivery and deployment of the solutions.
He clears that they have open-door policies and their clients can come to ask for help anytime. They have a flexible payment model that the clients can choose at their convenience. In some cases, they work on a fixed cost basis while dealing with startups and entrepreneurs, but if the project size is bigger, they charge based on payment per milestone. Pay per hour facility is also available, if a client hires a dedicated developer for some specific time.
Naveen asserts that eBizneeds is a client-centric company that believes in customer satisfaction. The budget depends upon the project requirements, but usually, the projects start with a minimum budget of $10,000-$12,000.
However, the average price range of the projects catered by the company in 2021 was $30,000. The minimum cost went $12000 and the maximum cost went up to $70,000. The average project price is acquired on the basis of the total number of projects and their price.
While asked about the future plans of the company, Naveen shared about the set goals they are working hard to achieve for their dream company – eBizneeds. He concludes the interview as, "In the next ten years, we have a plan to progress with the new-age technologies such as Blockchain, IoT, AI/ML, and smart automation. Besides the plan, we are excited to achieve our company's goals year by year."
The detailed interview can be glanced at the GoodFirms profile page of the company.

About GoodFirms
Washington, D.C.-based GoodFirms is a maverick B2B research and reviews firm that aligns its efforts in finding web development and web design service agencies delivering unparalleled services to its clients. GoodFirms' extensive research process ranks the companies, boosts their online reputation, and helps service seekers pick the right technology partner that meets their business needs.
About the Author
Prepared by Anna Stark, a Content Writer at GoodFirms, who bridges the gap between service seekers and service providers. Anna's dominant role lingers to form every company's achievement and critical attributes into words. She strongly believes in the charm of words and equips new approaches that work, always with concepts.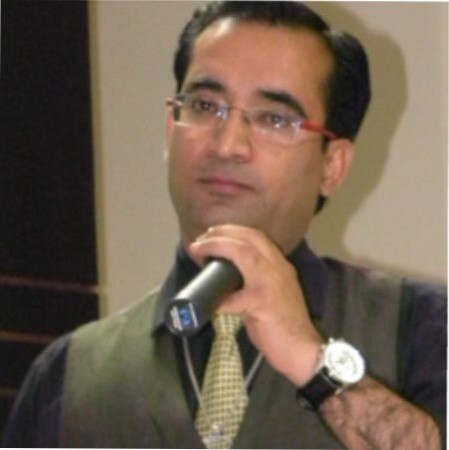 Naveen Khanna is the CEO of eBizneeds, a company renowned for its bespoke web and mobile app development. By delivering high-end modern solutions all over the globe, Naveen takes pleasure in sharing his rich experiences and views on emerging technological trends. He has worked in many domains, from education, entertainment, banking, manufacturing, healthcare, and real estate, sharing rich experience in delivering innovative solutions.